KYIV, Ukraine -- US officials say they have evidence of a plan by Moscow to film a fake Ukrainian attack on Russians to justify a real assault on Ukraine.
"We do have information that the Russians are likely to want to fabricate a pretext for an invasion," Pentagon spokesperson John Kirby said Thursday.
Washington has found that the Russian government plans to stage a supposed attack by the Ukrainian military or intelligence forces "against Russian sovereign territory, or against Russian speaking people", he told reporters.
The latter could refer to the sizeable Russian-speaking population inside Ukraine.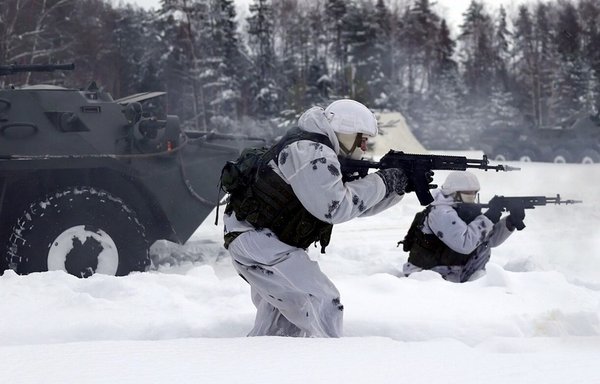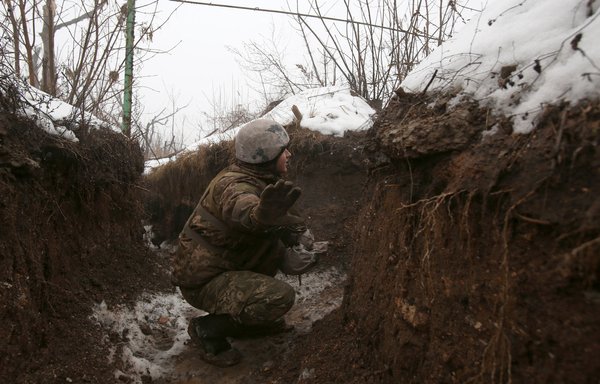 "As part of this fake attack, we believe that Russia would produce a very graphic propaganda video, which would include corpses and actors that would be depicting mourners and images of destroyed locations," he said.
That could allow Moscow, which has amassed more than 100,000 troops and heavy offensive arms on Ukraine's border, with an excuse for invading.
Part of the plan would be to make the Ukrainian military equipment used in it appear to be supplied by the West, Kirby said, further justifying Russian reprisals against Ukraine.
"We've seen these kinds of activity by the Russians in the past, and we believe it's important when we see it like this that we can call it out," he said.
"Our experience is that very little of this nature is not approved at the highest levels of the Russian government," Kirby said about the plan.
'Unprovoked aggression'
The plan is "one of a number of options that the Russian government is developing as a fake pretext to initiate and potentially justify military aggression against Ukraine", said US State Department spokesperson Ned Price.
"Russia has signalled it's willing to continue diplomatic talks as a means to de-escalate, but actions such as these suggests otherwise," Price said, adding that US intelligence agencies do not know if Moscow has decided to go through with the plan.
Neither Kirby nor Price provided details on the alleged plan or the evidence in possession of US intelligence.
British Foreign Secretary Liz Truss called the US claim of Moscow's false flag operations "clear and shocking evidence of Russia's unprovoked aggression and underhand activity to destabilise Ukraine".
"The only way forward is for Russia to de-escalate, desist and commit to a diplomatic pathway," she said in a tweeted statement.
The Kremlin denied the accusations, just as it has denied it has plans to invade Ukraine.
Western powers have been engaged in intense diplomatic efforts -- coupled with the threat of sanctions against Russian President Vladimir Putin's inner circle -- to deter what they fear to be a looming invasion of Ukraine, despite strenuous denials from Moscow.
Russia has demanded wide-ranging security guarantees from the West, including that Ukraine never be allowed to join NATO.
The Kremlin also wants NATO and the United States to foreswear the deployment of missile systems near Russia's borders and to pull back NATO forces in Eastern Europe.
Hybrid war
Deception is a familiar part of the Kremlin's toolbox in undermining countries. Instead of sending in troops every time, it often "softens the target" with disinformation and hacking.
European politicians and analysts warned last year that nations must enhance their knowledge of Russia's hybrid warfare strategy as a way to counter exactly what is playing out in Ukraine.
Russia's hybrid warfare strategy is made up of five key areas, according to Olena Carbou, the co-founder and executive director of the Ukrainian Think Tanks Liaison Office in Brussels.
It uses economic, energy, political and militaristic pressure, accompanied by disinformation or information warfare, she said last year.
"Ukraine and Georgia became the beachheads of this war," she said.
In countries where Russia is waging a hybrid war, each of the instruments is constantly present with varying degrees of prominence, Carbou explained.
"If we're talking about political influence, it's support for pro-Russian political forces. It's destabilisation of the political structure and interference in the electoral process," she said.
"The danger of hybrid war is that the aggressor exploits weaknesses," Carbou said. "The state must become stronger. It must make its state institutions stronger, eliminate corruption [and] increase the public's information literacy."
No surprise
Ukrainian Foreign Minister Dmytro Kuleba Friday hailed Western support for his country amid increasing Russian aggression.
Kuleba said the alleged plan was no "surprise".
"Since 2014, we have seen many insidious actions by the Russian Federation; we have seen that they stop at nothing when they try to fabricate and blame Ukraine," the minister said.
"It is very important that any plans, any intentions of Russia are brought to light and we manage to wreck them," he said.
Russia seized the Crimean peninsula from Kyiv in 2014 and has fuelled a simmering separatist conflict in the east of the country that has claimed more than 13,000 lives since then.