UVDA AIR FORCE BASE -- The joint exercise between the US and Israeli air forces that concluded earlier this month has been touted as a "significant step" in regional co-operation and readiness against common threats.
The "Desert Falcon" exercise was held at the Uvda Air Force Base in Israel, where multiple squadrons of Israeli planes flew alongside American fighter jets performing a host of aerial scenarios and strikes.
"The joint exercise is a significant step for the strategic co-operation and operational readiness of the IAF [Israeli Air Force] and the USAF [US Air Force]," the IAF said on January 16.
"You can be my wingman anytime," US Air Forces Central (AFCENT) said in a tweet on January 18, referencing an Israel Defence Forces (IDF) statement and the American movie "Top Gun".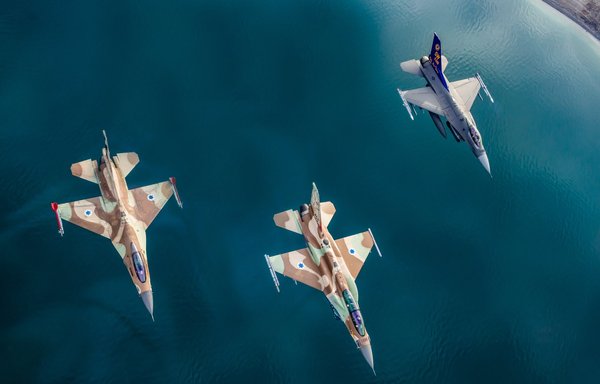 "The Israeli air teams flew 'shoulder-to-shoulder' with American teams and simulated joint responses to aerial threats and strikes on targets, through education, co-operation, and mutual growth," the IDF said.
The drill comes one month after US and allied air forces in the Gulf concluded their most comprehensive joint operation to date at various installations across the Middle East and beyond.
The multi-day operation from December 17–22 was the capstone event of the Agile Combat Employment (ACE).
ACE is a concept that leverages networks of bases, personnel, pre-positioned equipment and airlift operations to rapidly deploy and manoeuvre around the globe.
Growing regional co-operation
Israel has been participating in an increasing number of joint military exercises with Middle Eastern countries.
The United Arab Emirates (UAE) and Bahrain in November performed joint naval exercises with Israel in the Red Sea, which signaled a new phase of co-operation between them.
It was the first publicly announced military co-operation by the UAE and Bahrain with Israel since they established diplomatic relations in September 2020.
An Israeli military official, who declined to be named, said the drills were aimed at keeping shipping lanes safe, especially from Iran.
In October, Bahrain, Egypt, Saudi Arabia and Israel escorted a US Air Force bomber over their respective airspaces as it flew over key waterways in the Middle East, the US military said.
The bomber task force mission -- the fifth in CENTCOM's area of operation last year -- was intended to deliver a clear message of reassurance to allies, said US Central Command (CENTCOM) commander Gen. Kenneth McKenzie at the time.
"We are stronger together," he said.
"Military readiness for any contingency or mission -- from crisis response to multilateral exercises to one-day presence patrols like this -- depend [sic] on reliable partnerships," he said.