ADEN -- In Yemen's al-Jawf and Saada provinces, which are under Houthi control, the Iran-backed group has been boosting its income by cultivating cannabis (hashish) and other illegal drugs, according to local tribesmen.
The Houthis have begun cultivating drugs of various kinds at farms in several areas of upper and lower al-Jawf, tribal sources told the Marib Press.
Houthi militiamen have been preventing people living near those farms from approaching them, local tribesmen said in the January 1 report, noting the repressive authority the militias impose over the areas under their control.
They said the cannabis farms are supervised by experts in the plant's cultivation and harvest whose "identities and nationalities" are unknown to the local population.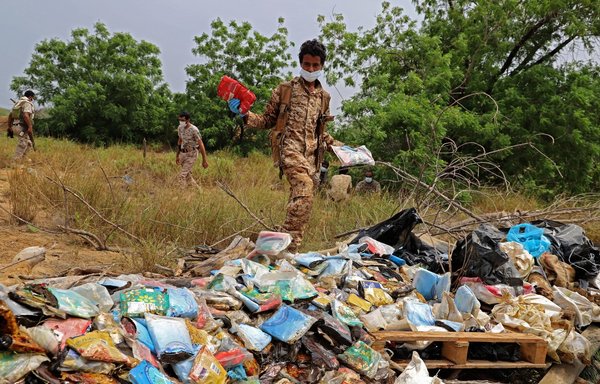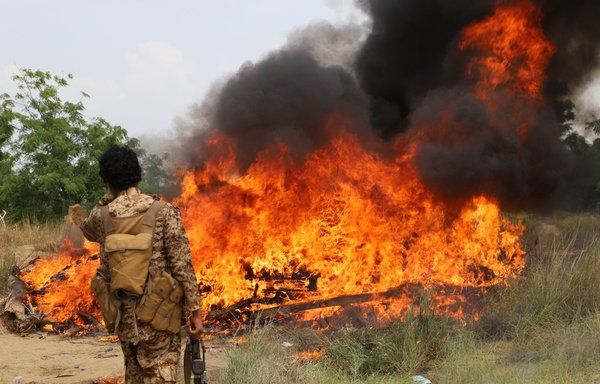 In a May 17, 2021 report, the December 2 news agency (2dec.net) said that according to local sources, members of the Houthi militia are cultivating hashish in several areas of Saada.
The northern province has become a hub for the illegal drug trade, they said, and serves as a transit point for smuggling drugs into Saudi Arabia.
The group has been using the roofs of rural homes to grow cannabis, they said, and the militia's leaders are fully facilitating the cultivation and sale of the crop.
Any means to finance operations
"The Houthis are an extension of Hizbullah and the Islamic Revolutionary Guard Corps (IRGC), which uses every means to finance its military operations," said Abaad Centre for Studies and Research director Abdul Salam Mohammed.
This includes "the cultivation and trafficking of hashish and drugs", he told Al-Mashareq.
The Houthis are under an economic blockade imposed by the Arab coalition and international organisations, while pressure is also being exerted on Iran, Iranian companies and intermediary banks, he said.
This has left the armed group suffering from a severe shortage of funding, he said, which has driven them to seek additional sources of income.
"Drug trafficking has become an active industry for the group, and its leaders have become major players in the smuggling of drugs between Afghanistan, Iran and Pakistan, through Yemen to the oil-rich Gulf countries," Mohammed said.
"I believe that Yemen could turn into a source for hashish and drugs if the Houthis continue to control the provinces in which they are currently present," he warned.
Political analyst Adel al-Shujaa said the Houthis are employing the modus operandi of Hizbullah -- a long established grower and exporter of illegal drugs, which finances its activities with the trafficking of hashish and drugs such as Captagon.
Restricted areas
Saada province is "closed", economist Abdul Aziz Thabet told Al-Mashareq.
Access is restricted by the Houthis, he said, and no person can enter without obtaining prior permits and guarantees from residents, who must approach the group with their requests.
This has raised suspicion that dubious activities are taking place in the province.
"Drug trafficking and hashish cultivation have become an important economic activity for groups affiliated with Iran," Thabet said.
"Hashish cultivation in Saada is thus a strategic goal to finance the war effort, especially given the presence of Hizbullah and the IRGC experts," he added.
An estimated $6 billion a year has been flowing into the Houthis' coffers from drug cultivation and trafficking, he said.
Smuggling operations
Reports from Houthi-controlled areas reveal the involvement of prominent Houthi leaders in drug trafficking networks, Minister of Information, Culture and Tourism Muammar al-Eryani said in a November 10 statement on al-Islah party's website.
These networks are a key source of financing for the group's war effort, he said.
Deputy Minister of Justice Faisal al-Majeedi told Al-Mashareq that several security agencies, particularly in Marib, have reported the seizure of shipments of drugs and hashish bound for Houthi-controlled areas.
There are reports that the Houthis have resorted to drug trafficking to finance their battle, he said, following in the footsteps of militant groups like Hizbullah.
"The latest information indicates that there are organised smuggling operations being carried out in [Houthi-controlled] areas, between Saada, al-Jawf and Saudi Arabia," said Studies and Economic Media Centre chairman Mustafa Nasr.
These drug-trafficking networks are "operating under the noses of influential Houthi figures in those areas", he said, which would signal their complicity in these illegal activities, even if they are not directly involved.