ADEN -- The Houthis and their allies have transformed the densely populated city of Sanaa, home to more than 2.5 million, into a "military zone" where lethal weapons are assembled and stored in residential neighbourhoods, analysts said.
The presence of arms depots and workshops in Sanaa, and of military advisors from Iran's Islamic Revolutionary Guard Corps (IRGC) and Lebanese Hizbullah, puts the city's civilian population at great risk, they said.
A recent run of Arab coalition raids targeting sites linked to the Houthis' weapons has served only to highlight the danger civilians face in these areas.
On December 6, Saudi Arabia said it had launched overnight air raids against targets in Yemen in retaliation for a ballistic missile fired by the Houthis, destroying the missile launch site in Sanaa, AFP reported.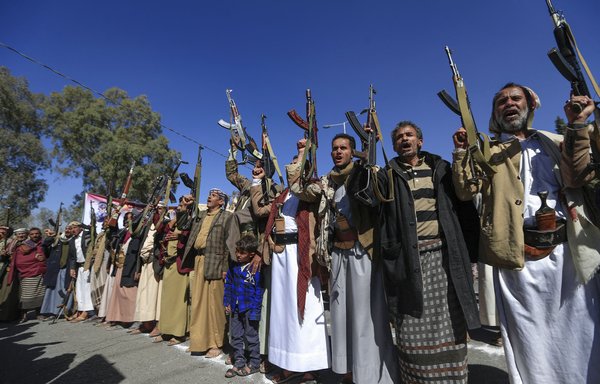 "We have destroyed sites in Sanaa linked to ballistic missiles and drones," the Saudi Press Agency (SPA) said on Twitter.
The Saudi army had previously intercepted and destroyed a ballistic missile fired at the kingdom by the Houthis from neighbouring Yemen, SPA said.
The target of the retaliatory strike included an area of "caves and secret ballistic missile warehouses on the outskirts of Sanaa", the SPA added.
Saudi Arabia's Ministry of Defence denounced the Houthis' missile-firing and their "vicious and irresponsible behaviour of targeting civilians".
"The Ministry of Defence will take all necessary and deterrent measures to protect civilians and its territory," it said in a statement carried by the SPA.
Weapons depots, drones
On December 1, the Arab coalition announced it had destroyed an explosives-laden boat in the southern waters of the Red Sea that the Iran-backed Houthis had launched from al-Hodeidah, an area they control.
The coalition said it had earlier destroyed a Houthi drone that was launched from Sanaa international airport, the pan-Arab daily Asharq al-Awsat reported.
On November 30, the coalition said it had struck a "secret location" used by IRGC experts in Sanaa.
It also hit a weapons depot and workshop in Sanaa where ballistic missiles were assembled and stored, warning civilians to steer clear of these areas.
The Houthis' Al-Masirah TV on November 30 said three Arab coalition air strikes had hit Sanaa airport, while a fourth raid targeted a park, Al-Arabiya reported.
On November 18, Arab coalition air strikes destroyed a secret hideout at an undisclosed location in Yemen housing experts from the IRGC and Hizbullah, Arab News reported.
Locations in Sanaa, Dhamar, Saada and al-Jawf also were targeted as part of a wide-ranging operation, with Al-Arabiya reporting that al-Daylami base, which is connected to Sanaa airport, had been among the sites hit.
In early November, the Arab coalition had warned that the Houthis had been using the Sanaa airport as a base for their operations with the IRGC and Hizbullah, Asharq al-Awsat reported.
'A barracks for the IRGC'
Yemeni Minister of Defence Lt. Gen. Mohammed al-Maqdashi confirmed that a number of IRGC and Hizbullah experts have been killed in recent days.
In interviews with Al-Arabiya and Al-Hadath television channels on December 1, al-Maqdashi noted that arms destined for the Houthis continue to be smuggled into the country via the Red Sea coast and Houthi-controlled al-Hodeidah port.
The recent Arab coalition air strikes were conducted "following successful intelligence operations, and achieved their objectives", political analyst Khaled Ahmed told Al-Mashareq.
The targeted IRGC headquarters housed Houthi commanders and contained a command and control room that directed the Houthis' battles, he said.
Ahmed described the Houthis as "mere tools" of the IRGC.
The presence of IRGC experts in Sanaa has turned the city into a "military barracks for the IRGC", he said, with workshops for the manufacture of drones and missiles operating in residential neighbourhoods of the city.
The densely populated city has become a military zone, strategic affairs researcher Waddah al-Yaman Abdul Qader said.
He said Sanaa residents are being used as "human shields" to prevent the Houthis' weapon workshops and arms depots from being targeted.
These workshops and depots "contain large quantities of explosives and flammable materials", and put civilian residents at risk.
'Houthis in disarray'
The Arab coalition's targeting of the IRGC headquarters in Sanaa threw the Houthis into "disarray", military analyst Yahya Abu Hatem said.
This disrupted the Houthis' combat operations because the IRGC is directing the fighting on the front, he said, which caused the militias to lose ground in certain areas in al-Hodeidah, Shabwa and Taez provinces.
"Iran sent weapons and first-tier IRGC and Hizbullah experts to draw up strategic plans, re-assemble weapons smuggled from Iran and launch them at civilian targets," Abu Hatem said of the IRGC's role in Sanaa.
Some were responsible for laying naval mines and deploying booby-trapped boats, he said, and some for drawing up military plans, communications and intelligence, while others directed the action from the front.
Iran supports the Houthis because through the group, it seeks to control a key geographical area that overlooks Bab al-Mandeb strait, and thereby control access to the southern entrance of the Red Sea, Abu Hatem said.