Since Iranian President Ebrahim Raisi took office this summer, his government's declared foreign policy focus has been to improve political, economic and trade relations with Iran's neighbours.
In an early meeting with cabinet members, Raisi stressed that "the most active diplomacy of a government should be with its neighbours, so we must make every effort to increase trade and economic co-operation with our neighbours".
But observers of Raisi's government who spoke to Al-Mashareq said the government is in effect being held hostage to the destabilising regional policies of the Islamic Revolutionary Guard Corps (IRGC).
These polices, which have relied on the use of proxy forces to undermine the interests of countries that are considered "enemies" in the eyes of IRGC leaders, have overshadowed Iran's foreign relations for decades, they said.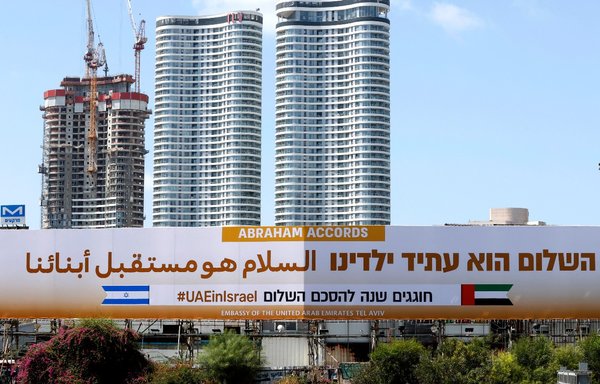 Raisi's government has no choice but to at least maintain a balanced relationship with its neighbours because of the severe isolation the Islamic Republic is facing on the international stage.
A few months ago, for example, after weeks of tension between Iran and Azerbaijan, diplomats of both countries abruptly exchanged positive messages.
And even though Iranian leader Ali Khamenei, who also is the leader of hard-line fundamentalists in Iran, has described the United Arab Emirates (UAE), Bahrain and Saudi Arabia as "traitors", Tehran continued negotiating with Riyadh to defuse tensions.
Iranian Foreign Minister Hossein Amir-Abdollahian in October reported that negotiations between Tehran and Riyadh have gone well so far.
"We believe in dialogue and see it as the most suitable way to solve regional and international problems," he said, according to state news agency IRNA.
Tehran has 'no choice'
Political analyst Peyman Zamankhani pointed to the strong common position adopted by Gulf Co-operation Council (GCC) member states and Western powers regarding Iran's regional interventions.
He also noted the normalisation accords concluded during the past year by Israel and Iran's Gulf neighbours, the UAE and Bahrain.
In light of these developments, he said, it seems that Tehran has no choice but try to reduce the level of its hostilities in the region.
"No matter what slogan the Iranian government publicly chants, the deep economic crisis exacerbated by sanctions and its isolation will impose reality on its heads of state," Zamankhani said.
"As we have seen, Ebrahim Raisi, who criticised all of former president Hassan Rouhani's policies, has practically continued those policies since he took office."
These include returning to talks in Vienna aimed at reviving the 2015 nuclear accord between Iran and world powers (known as the Joint Comprehensive Plan of Action), Zamankhani said.
They also include attempting to defuse tensions in Iran's relations with its Arab neighbours, he said.
IRGC's 'crisis creation'
At the same time, however, the IRGC, which typically has diverged from the direction of previous governments, has not given up any of its crisis-causing actions.
Previous IRGC actions that have worked against attempts to defuse tensions with Iran's neighbours include sending fuel to Lebanese Hizbullah, inciting anti-government groups in Iraq and equipping and training the Houthis in Yemen.
"It is very unlikely that the IRGC... would give up its policy of creating crises in the region," said journalist and Iranian affairs analyst Farzaneh Ghassemi.
The IRGC's economic, military and security resources give it a domineering influence within the Islamic Republic's ruling apparatus, she explained, and its existence depends on generating crises, from which it can command state funds.
"Since the IRGC's inception in 1979, no government –- fundamentalist, traditional, reformist or moderate –- has had any real power against the IRGC," Ghassemi said.
The IRGC diverged from official policy even during the lifetime of the Islamic Republic's founder, Rouhollah Khomeini, despite the group's slogan of obedience to the Guardianship of the Jurist.
But Iran observers say it will not be possible for the IRGC to continue its obstructionist policies forever.
"The day of the IRGC's decline will come, but it may plunge Iran into a vortex from which salvation is almost impossible," Zamankhani said.