WASHINGTON -- The United States and its Gulf allies on Wednesday (November 17) accused Iran of causing a nuclear crisis and destabilising the Middle East with ballistic missiles and drones.
The warning came the same day as the International Atomic Energy Agency (IAEA) reported that Iran has again boosted its stock of highly enriched uranium, just days before talks are set to resume seeking to revive the 2015 nuclear deal.
The statement, issued after the US and Gulf Co-operation Council working group on Iran met in Saudi Arabia, was endorsed by representatives of Saudi Arabia, the United States, the United Arab Emirates, Qatar, Bahrain, Oman and Kuwait.
"All participants urged the new Iranian administration to seize the current diplomatic opportunity" stemming from the resumption of talks in Vienna aimed at salvaging the 2015 nuclear deal, and "prevent conflict and crisis", it said.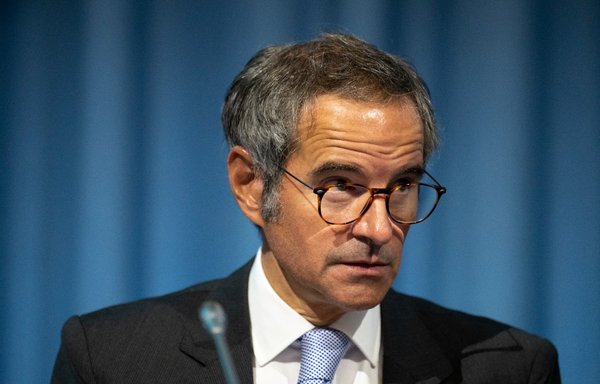 Indirect talks between the United States and Iran, called 4+1 talks, were suspended in June, and are scheduled to resume late this month.
They are aimed at resurrecting the 2015 nuclear accord, known as the Joint Comprehensive Plan of Action (JCPOA), which seeks to prevent Iran from developing nuclear weapons.
"Iran has taken steps for which it has no civilian need but that would be important to a nuclear weapons programme," the joint statement said.
It condemned what the signatory states called "a range of aggressive and dangerous Iranian policies including the proliferation and direct use of advanced ballistic missiles" and drones.
The participants discussed Iranian support for Yemen's Houthis as well as paramilitary Shia groups in Iraq, saying that these actions "pose a clear threat to regional security and stability".
Some Gulf countries, such as Qatar and Oman, are often seen as channels for the United States to communicate with Iran.
Saudi Arabia also has recently undertaken a quiet but noticeable dialogue with its neighbour under the auspices of Iraq.
"The United States and GCC member states stressed that these diplomatic efforts will not succeed if Iran continues to provoke a nuclear crisis," the statement concluded.
US Defence Secretary Lloyd Austin travelled to the UAE Thursday for talks with regional allies.
Ahead of his trip, Austin reiterated the United States' commitment to preventing Iran from getting nuclear weapons.
"I've said before, no problem in the Middle East gets easier to solve with a nuclear-armed Iran."
Iran's uranium stockpile
In its Wednesday report, the IAEA estimated Iran's stockpile of highly enriched uranium at 2,489.7 kg -- many times in excess of the limit laid down in the 2015 nuclear agreement.
The total amount now includes 113.8 kg enriched to 20% up from 84.3 kg in September, and 17.7 kg enriched up to 60%, up from 10 kg, the report said.
Iran's acting head of mission to UN agencies in Vienna, Mohammad Reza Ghaebi, said the new report "shows that the IAEA has continued its verification and surveillance activities regarding Tehran's engagements".
Quoted by Iranian media, he said talks were ongoing to "solve some issues between the two parties" and called on IAEA member states to refrain from "making hasty or politically motivated comments".
A spokesman for Iran's atomic energy agency told the domestic Fars news on Wednesday that IAEA chief Rafael Grossi would arrive in Tehran on Monday.
Grossi will meet Foreign Minister Hossein Amir-Abdollahian and Iranian Atomic Energy Organisation chief Mohammad Eslami on Tuesday, the spokesman added.
On November 12, Grossi described as "astonishing" his lack of contact with the new Iranian government of President Ebrahim Raisi.
He said he had hoped to meet Iranian officials ahead of the next meeting of the IAEA's Board of Governors, scheduled for next week.
'Excessively invasive'
During Grossi's last visit to Tehran in September, he clinched a deal on access to monitoring equipment at Iran's nuclear facilities.
The agreement was an extension of a deal struck in February after Iran limited some of the IAEA's activities in the country.
But days later, the IAEA complained it was prevented from "indispensable" access to a unit at the TESA complex in the city of Karaj, near Tehran, in violation of the September deal.
The IAEA report warned that the repeated prolongation of the agreement was "becoming a significant challenge to the agency's ability to restore... continuity of knowledge" about Iran's nuclear activities.
It warned that establishing clarity on activities in Karaj -- a centrifuge component manufacturing workshop -- "has been widely recognised as essential in relation to a return to the JCPOA".
In a separate report also issued Wednesday, the IAEA said there had been virtually no progress in resolving several questions the agency has about the previous presence of nuclear material at undeclared sites in the country.
That report said Grossi was "concerned by the incidences of agency inspectors being subjected to excessively invasive physical searches by security officials at nuclear facilities" and called on Iran to "take immediate steps to rectify the situation".
Ransomware attacks
Separately, the US cybersecurity agency on Wednesday accused Iran's government of backing an advanced persistent threat (APT) hacker group responsible for recent ransomware attacks in the United States and Australia.
"The Iranian government-sponsored APT actors are actively targeting a broad range of victims across multiple US critical infrastructure sectors," the Cybersecurity and Infrastructure Security Agency (CISA) said in an alert.
These include the transportation, healthcare and public health sectors, it stated.
It said experts in the FBI, Australian Cyber Security Centre and Britain's National Cyber Security Centre had jointly reached the conclusion on Tehran's support for the APT, a designation often given to state-backed hackers.
Since at least March, the group has exploited vulnerabilities in Microsoft Exchange and Fortinet software to hack into systems, including those of a city government and a children's hospital, CISA said, without offering specifics.
"These Iranian government-sponsored APT actors can leverage this access for follow-on operations, such as data exfiltration or encryption, ransomware, and extortion," it warned.