BOHONIKI, Poland -- A Syrian teenager who drowned in October while trying to cross a river into the European Union from Belarus was laid to rest Monday (November 15) in a forest cemetery for Poland's small ethnic Muslim community.
Following prayers in front of the wooden mosque in the eastern village of Bohoniki, a handful of people attended the migrant's burial.
Unable to attend their son's burial in person, the family of 19-year-old Ahmad al-Hasan watched it via the phone of a Syrian physician who has lived in the area for years.
"It's a human being, so we have to give him a proper burial. You feel for them all," local Muslim leader Maciej Szczesnowicz told AFP.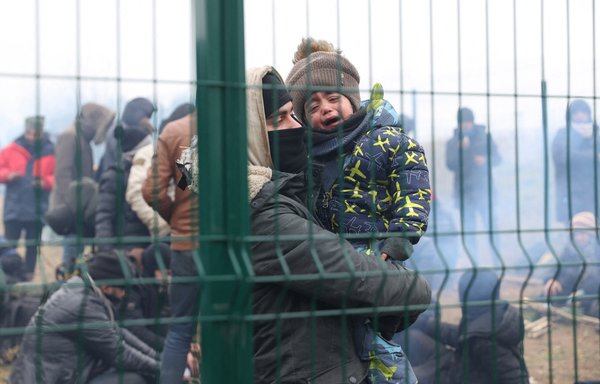 "It's a Muslim, a young person. We have to help," said Szczesnowicz, the chairman of the Muslim community in Bohoniki.
The Muslim community led by Szczesnowicz comprises some 300 people, descendants of the Muslim Tatars who came to the area hundreds of years ago.
Out of 38 million people, only some 30,000 Muslims -- including 5,000 Tatars -- currently live in the majority Catholic country of Poland.
One of at least 11 migrants who have lost their lives at the border, al-Hasan was given a final farewell more than 2,300km away from his war-torn hometown of Homs, Syria.
Shattered dreams
Szczesnowicz said the teenager died while trying to cross the Bug river from Belarus.
A fellow migrant who survived the river crossing told Polish authorities last month that Belarusian guards had pushed them into the river, even though they were aware that they did not know how to swim.
Al-Hasan "had hoped to continue his studies, which he began at a centre for refugees in Jordan", said Kasim Shady, the Syrian physician who livestreamed the burial for the family.
"He was seeking the same thing as every young man with dreams, but it didn't work out. Death was too quick for him," he told AFP.
Thousands of migrants, many of them desperately fleeing war in the Middle East, have tried to cross the border in often freezing conditions, as the Belarusian side refuses to allow them to return to Minsk and fly home, and Poland does not allow them to cross and seek asylum.
The EU accuses Belarus of luring the migrants to Belarus to send them across the border in revenge for sanctions imposed last year after a heavy crackdown on the opposition.
Migrants from the Middle East, Afghanistan and Africa are being instigated by close Russian ally Belarus to storm the Polish border to create pressure on the European Union to drop sanctions, officials said.
Polish Prime Minister Mateusz Morawiecki on November 9 accused Russian leader Vladimir Putin of orchestrating an unprecedented wave of migrants trying to illegally enter Poland from Belarus.
The move, which has trapped hundreds of migrants at the Poland-Belarus border, threatens to destabilise the EU, he said.
"This attack which [Belarusian President Alyaksandr] Lukashenka is conducting has its mastermind in Moscow; the mastermind is President Putin," Morawiecki told an emergency session of the Polish parliament.
Tense situation
Poland has responded to the influx of migrants by sending thousands of soldiers to the border and implementing a state of emergency there, as well as hastily building a razor-wire fence.
Last week, Polish police said they had detained more than 50 migrants who crossed into Poland from Belarus over 24 hours, and were still looking for others, as Warsaw signaled a spike in crossings.
The tense situation has raised fears of a confrontation on the border, where troops from both countries are deployed.
On November 10, Polish Defence Minister Mariusz Blaszczak told the national radio "the situation is not calm", adding that smaller groups of migrants were now attempting to breach the border of the EU and NATO member.
The United States has called on Minsk to stop what it described as an orchestrated influx of migrants, while the EU called for fresh sanctions against the regime.
NATO accused Minsk of using the migrants as political pawns. It denounced Belarus's use of migrants to put pressure on the EU as "unacceptable", expressing concern about "escalation" on the border.