CAIRO -- Beijing is using a law that requires a permit authorising the distribution of books or magazines online in China as a loophole to silence a Qur'an application trusted by millions of Muslims worldwide.
Earlier this month, Apple removed the Quran Majeed app from its App Store in China, disabling it for almost a million users, according to the application's developer, Pakistan Data Management Services (PDMS).
The app is "trusted by over 25 million Muslims globally" who use the app to read or listen to recitations of the Qur'an, keep track of prayer times, locate the direction of the Qibla, and watch live coverage of Mecca and Medina, among other things, according to the company.
Challenging China's censorship rules
The Quran Majeed app was removed for hosting illegal religious texts, the BBC reported October 15, but it is not clear what exact rules the app has broken in China.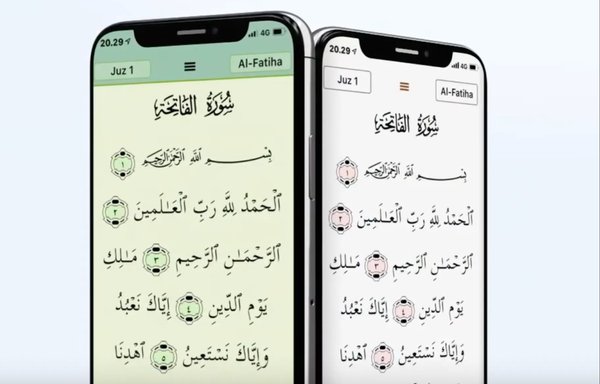 "According to Apple, our app Quran Majeed has been removed from the China App store because it includes content that requires additional documentation from Chinese authorities," PDMS said in a statement published by the BBC.
"We are trying to get in touch with the Cyberspace Administration of China and relevant Chinese authorities to get this issue resolved," it said.
The Chinese government has not responded to reporters' requests for comment.
Apple referred to its human rights policy, which states: "We're required to comply with local laws, and at times there are complex issues about which we may disagree with governments."
Around the same time, another popular religious app -- Olive Tree's Bible app -- was also removed from the App Store in China.
"Olive Tree Bible Software was informed during the App Store review process that we are required to provide a permit demonstrating our authorisation to distribute an app with book or magazine content in mainland China," a spokesperson told the BBC.
"Since we did not have the permit and needed to get our app update approved and out to customers, we removed our Bible app from China's App Store."
Apple Censorship -- a website that monitors apps on Apple's App Store globally -- first reported the deletions on October 12.
Audible, the audiobook and podcast service owned by Amazon, removed its own app from the App Store in China last month "due to permit requirements", The Mac Observer reported October 15.
Microsoft on October 14 announced it was removing its career oriented social network LinkedIn because of the "challenges" of complying with Beijing's censorship rules.
A 'foolhardy' move
China's decision to request the deletion of the Quran Majeed app was "foolhardy", said Rajeh Sabri of the Directorate of Religious Guidance at the Egyptian Ministry of Endowments (Awqaf).
Determining whether the app contains "illegal religious texts" requires expert knowledge, he said.
Removing the app "without first checking with and asking the opinion of major religious authorities cannot be overlooked", he said. "This behaviour falls under the category of suppressing religious freedom and the freedom of belief."
The Islamic issue has become a headache for the Chinese Communist Party (CCP), said Abdul Nabi Bakkar, a political researcher and professor at Al-Azhar University's Faculty of Sharia and Law in Cairo.
"Therefore, according to the thinking of the Chinese administration, deleting an Islamic application on social media is considered an essential matter and a goal that must be accomplished to stem the Islamic tide," he said.
But in doing so, he said, "China is risking its relations with the Islamic countries with which it has strong relations".
"Since the Chinese authorities took their decision unilaterally... they lost the support that they could have received from Islamic countries, because they did not provide justifications that are even minimally convincing," Bakkar said.
"In China, the minarets of the mosques and Islamic signs are destroyed," an Afghan reader of Salaam Times wrote in response to a report on Beijing's five-year "sinicisation plan".
That news, coupled with the deletion of the widely popular and trusted Qur'an application, is troubling, the reader said.
"With this, China wants to bully Muslims, and its government has been trying to control internet services and online information."
Silencing the adhan
Chinese President Xi Jinping has been pushing for "sinicisation" for years.
In a speech in August, Xi said religious and ethnic groups should "hold high the banner of Chinese unity".
As part of the CCP's 2018–2022 plan, authorities have been removing mosque domes, minarets and other symbols of Islamic architecture, and banning mosques from playing the adhan (call to prayer) on loudspeakers.
The plan is being actively implemented throughout China, and not just in the majority-Muslim Xinjiang region, where the policy has gained notoriety for injustices that rights groups and some Western governments say amount to "genocide".
In Xinjiang, Chinese authorities have imprisoned more than one million Uighurs and other Turkic Muslims -- including ethnic Kazakhs and Kyrgyz -- in as many as 400 detention facilities that include "political education" camps, pretrial detention centres and prisons.
Millions more live under tight supervision and control.
Beijing defends the facilities as "vocational training centres" aimed at stamping out terrorism and improving employment opportunities.
These facilities, however, are widely reported to be involuntary detention centres that some have likened to "concentration camps".
Independent investigations and interviews with former inmates indicate physical and psychological torture, brainwashing, systematic rape, forced sterilisation of Muslim women, forced organ harvesting, sexual abuse and other horrors.
Other crimes committed in Xinjiang by Chinese authorities include the arbitrary detention of more than 1,000 imams and religious figures in the region and the destruction or damage of about 16,000 mosques.
Dozens of cemeteries have been destroyed in the region, leaving human remains and bricks from broken tombs scattered across the land, according to a 2019 AFP investigation.
[Waleed Abu al-Khair from Cairo contributed to this report]