VIENNA, Austria -- The UN nuclear watchdog on Wednesday (September 15) condemned as "unacceptable" incidents involving its inspectors in Iran following a news report that Iranian guards had harassed female agency staff.
Guards at Iran's main nuclear facility, Natanz, physically harassed female International Atomic Energy Agency (IAEA) inspectors in several incidents since early June, the Wall Street Journal reported Tuesday.
The incidents allegedly included inappropriate touching and orders to remove clothing, the newspaper said, citing diplomats.
One of the diplomats said there had been at least four separate incidents of harassment. A second diplomat said there had been five to seven.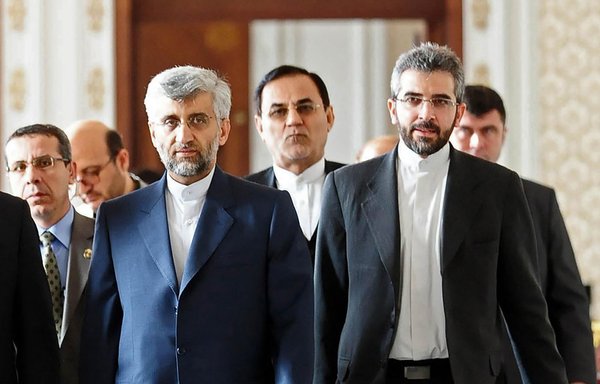 The United States condemned the incidents ahead of the IAEA member states' board meeting this week.
"Harassment of IAEA inspectors is absolutely unacceptable and any repeat of such conduct would be of serious concern," said US chargé d'affaires Louis L. Bono.
"The safety and well-being of IAEA inspectors must be one of this board's highest priorities."
Asked to comment on the report, the IAEA noted "some incidents related to security checks of agency inspectors at one Iranian facility" in recent months.
"The agency immediately and firmly raised this issue with Iran to explain in very clear and unequivocal terms that such security-related incidents involving agency staff are unacceptable and must not happen again," it added.
The statement said there had been no further incidents after the IAEA and Iran exchanged messages on this matter.
Iran has previously faced allegations of harassment against nuclear inspectors.
In October 2019, it revoked a female IAEA inspector's accreditation after she allegedly triggered a security check -- used to detect explosives -- at the entrance gate to the Natanz enrichment plant.
She was temporarily prevented from leaving Iran, a move the IAEA described as "unacceptable", saying there was "no indication that would confirm" the allegation that she was carrying explosive material.
Separately, Tehran has this year restricted IAEA access, along with other steps to ramp up its nuclear activities.
On Monday, IAEA chief Rafael Grossi voiced concern about Tehran's covert nuclear activities in four locations where uranium was found.
Chief nuclear negotiator replaced
Talks to revive the 2015 nuclear agreement, known as the Joint Comprehensive Plan of Action (JCPOA), with US participation are currently stalled.
Iranian state media on Wednesday reported that the country's chief nuclear negotiator had been demoted and replaced as deputy foreign minister with an opponent of concessions to the West.
Abbas Araghchi was one of the key negotiators of the 2015 agreement, but his role in the talks will now be limited to that of ministry adviser, state media said.
The deputy minister post will be filled by Ali Bagheri, a protege of Iran's new hardline President Ebrahim Raisi. Bagheri served as his deputy for international affairs when Raisi was judiciary chief.
Bagheri had repeatedly criticised former president Hassan Rouhani for the strict limits he agreed to on Iran's nuclear activities and his willingness to grant "foreigners" access to Iranian nuclear plants and "sensitive security facilities".
Analyst Mehdi Zakerian said the appointment puts Iran's nuclear policy firmly in the hands of ultra-conservatives close to Raisi.
"In the Raisi administration, the key personalities at the negotiating table are now Iranian Atomic Energy Organisation chief Mohammad Eslami and Ali Bagheri," Zakerian said.
US Secretary of State Antony Blinken last week warned that time was running out for a deal that must also tackle Iran's retaliatory suspension of many of its own commitments.