Iraqi officials say they have imposed strict security measures to protect the nation's power grid following a series of attacks on power distribution lines.
At least 18 power transmission lines on the outskirts of Baghdad and the provinces of Diyala, Kirkuk, Salaheddine, Ninawa and Anbar were damaged in terrorist acts that occurred between August 1 and 16, according to the Ministry of Electricity.
The attacks focused mainly on high-voltage power lines, with bombings targeting dozens of transmission towers.
Authorities accused remnants of the "Islamic State of Iraq and Syria" (ISIS) of using explosives to knock out the power grid and disrupt electricity supply.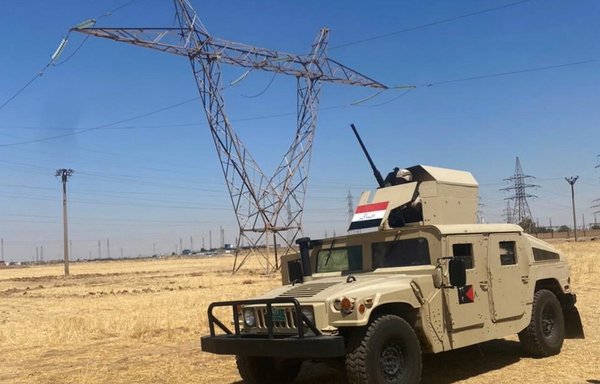 "This is without question a systematic war on the energy sector aimed at disrupting the ministry's efforts to alleviate the power shortage crisis and increase the number of hours of power supply," Ministry of Electricity Information Director Ahmed Moussa told Al-Mashareq, referring to the country's summer blackouts.
"We have finally reached an unprecedented production level of more than 20,000 megawatts, but terrorist gangs are trying to impede our efforts and plans," he added.
"The new attacks are not the first... their goal is to cut off the power grid between the provinces and damage power plants to increase the hours of outages and exhaust people," he said.
The terrorists also seek to "deplete national resources and disrupt other public services, such as water distillation plants, sewage treatment plants, hospitals, and all projects related to the lives of residents," Moussa said.
A Friday (August 13) attack on an electricity pylon powering a pumping station in Tarmiya, north of the capital, cut off al-Karkh from the city's water network, AFP reported. Al-Karkh is home to several million inhabitants.
Moussa said his ministry is working day and night to repair the damaged towers and lines and restore service in record time.
There is a "co-ordination effort between the Ministry of Electricity and security force commanders to protect the energy sector's infrastructure and address the attacks".
"These attempts will not discourage us," he said.
The ministry is moving forward with plans it has devised in response to the recommendations of the crisis unit that was formed under the chairmanship of Prime Minister Mustafa Kadhemi at the beginning of July to address energy shortages.
"We seek to provide additional power generation capacities of up to 3,000 to 5,000 megawatts next year," Moussa added.
There are "instructions to provide fuel to power plants and stop the irregularities within the power grids, which lead to overloading and unstable equipment", he said.
New security measures
Iraqi Defence Ministry spokesman Maj. Gen. Tahseen al-Khafaji said security forces have drawn up a plan to protect power lines and towers.
"We formed a joint operations room with the Ministry of Electricity, which provided us with maps and power line routes," he said, adding that there are co-ordination and daily reports to follow up on the situation.
Helicopters and surveillance drones have been deployed to secure the lines, especially in remote and rural areas, he said, and security forces have installed thermal cameras, prepared ambushes and conducted search operations for terrorists and their supporters.
"We succeeded in arresting and killing many terrorists and obtained important information. We also thwarted terrorist attacks on power towers," he said, without specifying.
Security forces announced in two separate statements published on August 9 and August 10 the thwarting of two attempts to bomb power towers in Salaheddine province.
"We deal with such attacks as attacks on our national security, and so our efforts are focused on pursuing anyone who wants to harm our goals and vital resources and bring them to justice," al-Khafaji said.
"We broke ISIS's back; however, its remnants are still present, and they are trying to challenge and muddle the situation with such attacks... and we will spare no effort to defeat them," he added.
Vulnerable infrastructure
Iraq's energy sector has been left dilapidated by decades of conflict, poor maintenance and rampant corruption, leaving national electricity provider Wataniya unable to keep up with soaring demand from the country's 40 million inhabitants.
When the national grid fails, many turn to generators, with around 4.5 million privately owned generators operating nationwide, according to independent energy consultant Harry Istepanian, a senior fellow of the Iraq Energy Institute.
In some areas, generators now operate for about 22 hours a day, AFP reported.
Hassan Adnan, a resident of the al-Shula area in Baghdad, said he supports any security action that results in stopping terrorist attacks on the power grids.
He called on residents near the power lines and towers to report terrorists right away.
"The terrorists target electricity to increase our suffering... They will do anything to harm us," said Israa Jassem, a resident of al-Bayaa district in Baghdad.
"The government should do everything it can to rid us of the remnants of terrorism and find radical solutions to the electricity crisis that recurs every summer," she added.