KUWAIT CITY -- Increasing challenges in the Middle East have served only to deepen the long-standing strategic relationship between Kuwait and the United States, Kuwaiti officials said.
The two nations have a formal defence co-operation agreement, but the ties between them are not limited to security and defence, and extend to areas such as trade, education, health and investment.
Kuwait also serves as an important economic partner of the United States, said retired Kuwaiti army officer Nasser al-Khashti.
"Kuwait and the United States view each other as trustworthy partners who can be relied upon in maintaining security and stability in the Gulf region," he said.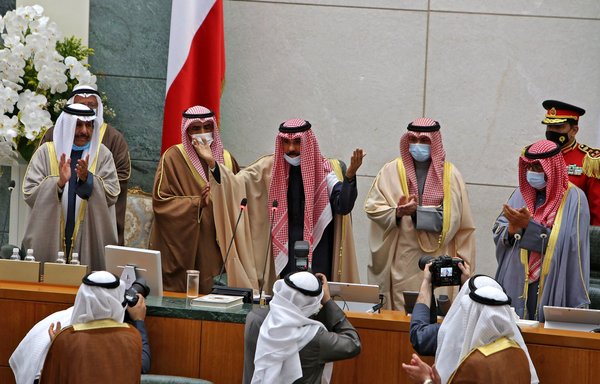 "Kuwait is a fully sovereign state with a democratic system, according to its constitution, in which the nation is the source of all authority, and with one of the finest and oldest parliamentary records in the region," al-Khashti said.
Its reputation on the world stage has enabled it to mediate in regional disputes and conflicts in holistic ways, an approach that was set by the late emir, Sheikh Sabah al-Ahmad al-Jabir al-Sabah, he said.
His successor, Kuwaiti emir Nawaf al-Ahmad al-Jabir al-Sabah, has continued on this path, he noted, "which greatly helps to avoid wars in the region and to effectively curb their very high cost".
Military co-operation
US Army Central Command (ARCENT) has a forward headquarters in Kuwait, which also serves as the Coalition Forces Land Component Command.
Approximately 13,500 US troops are based in Kuwait, primarily at Camp Arifjan and Ali Al Salem Air Base, according to the US State Department.
Only Germany, Japan, and South Korea host more US forces than Kuwait does.
In addition to US Army personnel, a number of US Marines are stationed in Kuwait, which also houses a US Air Force facility and a US Coast Guard training centre, according to security analyst Nasser al-Wazzan.
Kuwait hosts hundreds of planes, helicopters and tanks as well as a large amount of military equipment, he added.
The United States maintains 2,200 mine-resistant ambush protected (MRAP) vehicles in Kuwait, most of which are pre-positioned for any necessary US Army operations, according to the State Department.
The remainder are contracted for distribution to partners throughout the region.
Kuwait has been designated as a major non-NATO ally since 2004.
The Ministry of Interior and the Kuwait National Guard also have partnered with the US Embassy's Office of Military Co-operation through the Joint and Combined Exchange Training programme, according to the State Department.
This programme works with local counter-terrorism units via training and joint exercises to increase Kuwait's counter-terrorism capacity.
"The defence partnership between Kuwait and the United States plays an important role in regional security and stability, and extends to fighting terrorism and deterring external aggression," al-Wazzan said.
"Kuwaitis value the US role and commitment to Kuwait's security, and the US establishment's efforts to ensure that the Kuwaiti armed forces are adequately equipped to defend the country," he said.
Economic co-operation
There are ongoing meetings and consultations between Kuwait and the United States in the economic arena, said political scientist Mohammed al-Sarhan.
Deputy Prime Minister and Defence Minister Sheikh Hamad Jabir Al-Ali Al-Sabah recently conferred with US Ambassador to Kuwait Alina Romanowski at the Kuwaiti Defence Ministry, he said.
The two discussed further co-operation and partnership between their countries, he said, and the deputy prime minister praised the US efforts to ensure security and stability in the Gulf region.
"Kuwait invests about 30% of the Future Generations Fund in the United States and ranks second among the Arabian Gulf countries in terms of investing in US bonds and Treasury bills," al-Sarhan noted.
"The volume of trade between the two countries at the end of 2019 stood at $4.5 billion, and is expected to increase, in light of the great trust in US food products, with more than 7,500 types found in Kuwait," he said.
All these strategic and economic ties confirm "the depth of relations between the two countries and [drive] more strategic co-operation in all aspects", al-Sarhan said.
Kuwait is the third largest oil exporter in the Organisation of the Petroleum Exporting Countries (OPEC), with a strategic oil reserve of more than 120 billion barrels.