BAGHDAD -- Thousands of Iraqi protestors took the streets in Baghdad Tuesday (May 25) to demand justice over a wave of deadly attacks on activists and journalists that many blame on Iranian proxies.
Protesters also gathered in other cities, including Basra, to call on the authorities to publicly identify or charge the perpetrators of attacks widely considered to be part of a systematic campaign to silence Iran's critics.
Two Iraqis were killed and 28 others were injured in the demonstrations. Medics and police said demonstrators were injured when police fired tear gas to disperse them, while five policemen were hurt by projectiles thrown at them during the operation.
Mohammad Baker, of the southern town of Diwaniya, died in Al-Kindi hospital from a gunshot wound in the neck, a medical source said.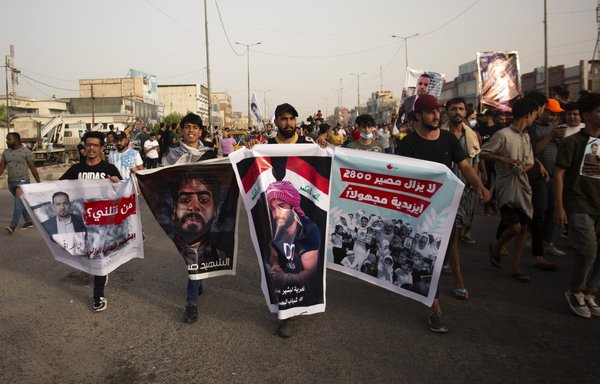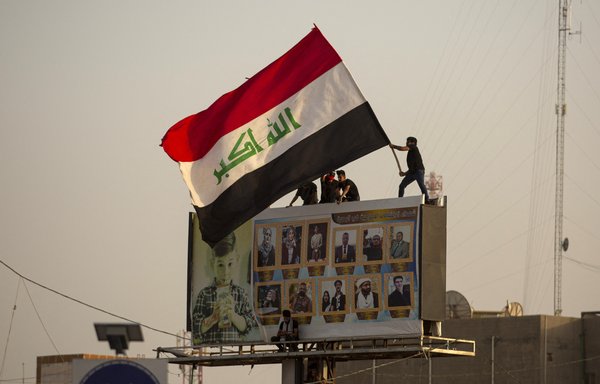 Another medical source later said another person had died, without giving more details.
Waving portraits of victims, gunned down with silencers by unknown assailants, the demonstrators converged on the Iraqi capital's main squares including Tahrir, as police were deployed in force.
"Who killed me?" banners read.
'Vicious' assassination attempt
Many in the crowds travelled from the southern cities of Karbala, Najaf and Nasiriyah, where several of the killings of activists and journalists occurred.
A prominent activist in Nasiriyah on Saturday survived a "vicious" assassination attempt involving a "sticky bomb" attached to his car, the Rudaw Media Network reported.
The explosive device targeted Imad al-Aqili's car near the city's Faleh Pasha Grand Mosque, activist Mohammed Khayat said.
Al-Aqili is in stable condition after undergoing surgery, he added.
After the incident, angry protesters headed to the city's al-Haboubi Square to condemn the escalation of assassinations, widely blamed on Iran-aligned militias.
Anti-corruption campaigner Ihab al-Wazni was killed in Karbala on May 9, a day before prominent journalist Ahmed Hassan was shot in southern Iraq. He remains in a coma after undergoing brain surgery.
Systematic assassination campaign
Killings, attempted murders and abductions have targeted more than 70 activists since a protest movement erupted against government corruption and Iranian interference in Iraq in 2019.
The violence appears to be part of a systematic campaign by Iran-backed militias, such as Kataib Hizbullah, Asaib Ahl al-Haq and Usbat al-Thaereen, to silence Iraqis calling for an end to Iran's influence in their country.
According to military and strategy expert Hatem al-Falahi, attacks on activists are part of an attempt to "silence all voices calling to enforce the authority of the state and to restore national sovereignty".
The militias seek to defend the Iranian regime's influence by killing those calling for freedom and eradicating the protest movement, he said, noting that Iraqi activists also have faced a smear and incitement campaign against them.