This week's terrorist drone attack that hit Erbil airport is another reminder of the type of Iran-backed activity that is turning the region against the Iranian regime.
A drone loaded with TNT, according to Kurdish authorities, crashed into the headquarters of the anti-militant coalition led by the United States at the Erbil airport on April 14.
While Wednesday's attack was the first terrorist drone strike in Iraq, according to one US senior defence official, this method is tried and tested for Iran-aligned groups in the region.
"The Iranian-backed militias have drones now with a 15-foot wingspan. It's an Iranian-made CAS-04, which we've already seen weaponised by the Houthis against Saudi," the official said.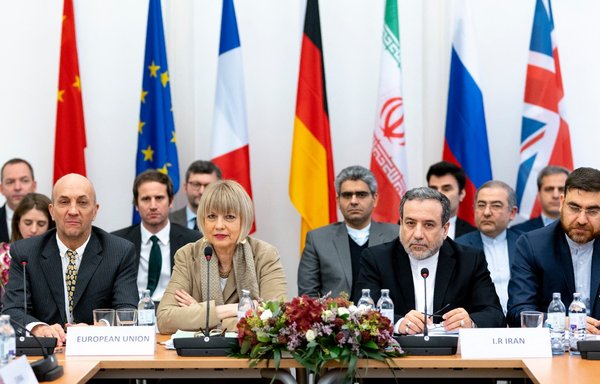 In January, drones packed with explosives were intercepted over the royal palace in the Saudi capital of Riyadh.
"We know the attack was launched ... out of southern Iraq," added the US official, speaking on condition of anonymity.
Alwiyat al-Waad al-Haq (Righteous Promise Brigades) -- a new façade group for IRGC-backed Iraqi Kataib Hizbullah -- took credit for the January 23 foiled attack on the al-Yamamah Palace and other locations in Riyadh.
In a subsequent Telegram post on January 27, the group posted doctored images of the monumental Burj Khalifa skyscraper in the UAE being struck by drones.
A shadowy pro-Iran front group calling itself Saraya Awliyaa al-Dam (Guardians of Blood Brigades) hailed Wednesday's attack on the Erbil airport, leading most to assume it had carried out the attack.
Unhelpful behaviour
This type of behaviour is not doing the Iranian regime any favours as it tries to renegotiate its 2015 nuclear deal with world powers.
Equally as damaging to the prospects of a resolution to the nuclear deal was Iran's decision to boost uranium enrichment up to 60%, a move described by many countries as "provocative".
The step would bring Iran closer to the 90% purity threshold for military use and would shorten its potential "breakout time" to build an atomic bomb.
Iran is also suffering from a massive economic crisis, and its support for regional terrorism and proxy militias is affecting its ability to deal with the crisis.
All the main economic indicators in Iran show that the Islamic Republic is in a grave situation, with inflation skyrocketing, currency reserves plummeting, and growing discontent with the country's leadership.
As part of its efforts to help salvage the situation, Iran asked the International Monetary Fund (IMF) in March 2020 for $5 billion in emergency funding to help it fight the coronavirus outbreak, but its approval -- which hinges partly on European support -- is still pending.
Plots against Gulf states
At the end of March, Iraqi Prime Minister Mustafa Kadhemi pledged that Iraq -- a huge source of Iranian funding and an Iranian proxy battleground -- would never become a launchpad for attacks on Saudi Arabia.
Kadhemi made the remarks during a long-awaited visit to Saudi Arabia aimed at forging closer economic and security ties, one that also reflected the growing isolation of Iran.
Iran's threat against the Gulf states is not merely rhetorical. The IRGC's Quds Force (IRGC-QF), whose commander, Brig. Gen. Esmail Qaani -- and before him Qassem Soleimani -- reports directly to Supreme Leader Ali Khamenei, has long interfered in regional states and sought to destabilise them.
The IRGC-backed Houthis (Ansarallah) have also escalated their attacks on Saudi Arabia's oil industry recently, with the latest drone and missile attack on April 14 and 15 as Saudi air defence intercepted five ballistic missiles and four drones.
The Houthis claimed two missile strikes on a Saudi Aramco plant in Jeddah, one on March 4 and an earlier one on November 24, and a March 7 attack against Aramco facilities in the eastern city of Dhahran.
In September, Riyadh said it had taken down a "terrorist cell" whose members had received training from the IRGC. Saudi forces arrested 10 people and seized weapons and explosives.
Sistani's calls for dismantling militias
Meanwhile, Iraq's top Shia cleric, Ali al-Sistani, has called for dismantling Iran-backed militias across the region and restoring state sovereignty.
Following a meeting with United Nations (UN) representatives in Iraq in September, al-Sistani called on the Iraqi government to "control border crossings, improve the performance of security forces [and] restore sovereignty".
He called for the collection of all unauthorised weapons and said Iraq must work to ensure districts did not fall under the control of armed groups.
This was in direct reference to Iran-backed militias that dominate the Popular Mobilisation Forces (PMF) and are widely viewed by Iraqis as unruly armed groups that threaten stability and peace in the country and the region.
Al-Sistani also threw his support behind Kadhemi's announcement that parliamentary elections will be held ahead of schedule this year -- on October 10, roughly a year early.
Early elections are "the right and peaceful" path to solving the current host of political, economic, security and health problems Iraq faces, he said, adding that they should be monitored and co-ordinated by the relevant UN body.
He has also been calling for all militias to join Iraq's national army following repeated attacks on foreign embassies, assassinations and the forced disappearance of activists, mainly blamed on Iran-backed militias.
Meanwhile, ongoing regional peace efforts are furthering Iran's isolation from the region.
While Iran and several members of the Gulf Co-operation Council have long been at odds, tensions spiked after Bahrain, the UAE, Morocco and Sudan signed peace agreements with Israel as part of the US-brokered Abraham Accords.
These historic peace initiatives with Israel, as well as the rapprochement between Saudi Arabia and Qatar, have left Tehran outside looking in.