The United Nations (UN)-imposed deadline for the withdrawal of foreign forces from Libya has come and gone, with no sign of Russia planning to comply.
On the contrary, construction of a massive series of trenches across Libya, dug by Kremlin-backed Wagner Group mercenaries, is raising concerns over Russia's long-term goals in the war-torn state.
The trenches are a sign that the Wagner Group -- a paramilitary organisation that serves the agenda of Russian President Vladimir Putin -- is "settling in for the long haul", a US intelligence official told CNN.
Using the Wagner Group allows the Kremlin to advance its interests and carry out its hybrid warfare under a cover of plausible deniability.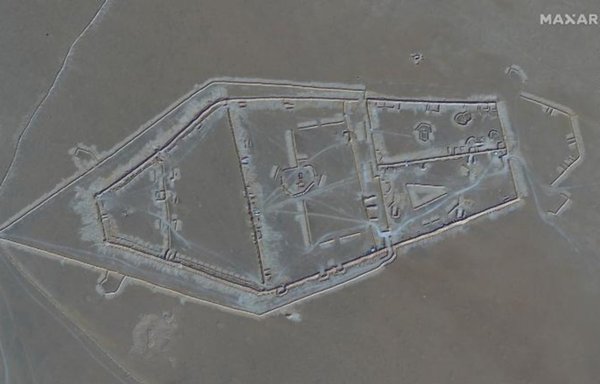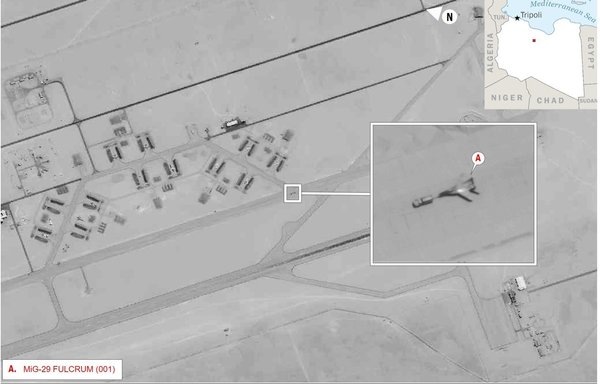 Wagner executes military operations in countries where the Kremlin has strategic, geopolitical interests, and similar scenes are taking place in many hot spots around the world that Moscow wants to influence, including the Central African Republic (CAR), Ukraine, Sudan, Syria, Venezuela and others.
Wagner has its largest global presence in Libya, the intelligence official said.
No plans to leave Libya
The trenches, which can be seen on satellite imagery, extend about 70km south from the coastal city of Sirte towards the Wagner-controlled stronghold of al-Jufra and are bolstered by elaborate fortifications, CNN reported January 22.
A UN-brokered peace deal in October between the internationally recognised Government of National Accord (GNA) and the Russian-backed Libyan National Army (LNA), led by Gen. Khalifa Haftar, stipulated that all foreign forces leave the country by January 23.
"We call on all external parties ... to respect Libyan sovereignty and immediately cease all military intervention in Libya," acting US ambassador Richard Mills said January 28 during a UN Security Council meeting on Libya.
He also called for "the removal of the foreign mercenaries and military proxies that they have recruited, financed, deployed and supported in Libya".
About 20,000 foreign troops and mercenaries are in Libya, estimates the UN.
"I don't think anyone digging a trench today and making these reinforcements is leaving anytime soon," GNA Defence Minister Salaheddin al-Namroush told CNN.
The trench is "worrying", said Claudia Gazzini of the International Crisis Group.
"It is ongoing and would suggest Moscow is keen to cement its presence in Libya," she told CNN.
Russia is hedging its bets on Libya as a way to boost its military presence along the southern Mediterranean, a potential affront to European and NATO interests, and as a gateway to Africa, analysts say.
Access to profits from Libya's oil industry is an added bonus.
Suspicious jet movements in Syria
Another indication that the Kremlin is shifting its focus and resources to Libya is the presence of MiG-29 fighter jets in Syria.
Russian forces have propped up Syrian President Bashar al-Assad for more than five years.
Russian Su-24s were first deployed in Syria in 2015 and since have been the primary fighter jet carrying out deadly air strikes in the country.
Deliberate bombing of civilian targets, including hospitals, by Russian warplanes has killed at nearly 7,000 Syrian civilians and displaced nearly a million.
But recent evidence suggests an increased presence of MiG-29s in Syria, a development that has puzzled observers who wonder why Russia would be deploying them after so many years of the Su-24s taking care of business.
The change of jets suggests that Moscow is using Syria as a transit point and staging ground for military equipment and fighters heading to Libya, say analysts.
Evidence over the past year supports such claims.
Russian media, using satellite images, identified six MiG-29 fighters of unknown affiliation at the Russian Khmeimim air base in Syria earlier this month.
Last May, the Kremlin was caught sending 14 MiG-29s and Su-24s to Libya via Syria in support of Haftar and the Wagner Group.
"The Russian fighter aircraft arrived in Libya, from an air base in Russia, after transiting Syria where it is assessed they were repainted to camouflage their Russian origin," US Africa Command (AFRICOM) said in a statement at the time.
"Neither the Libyan National Army (LNA) nor private military companies can arm, operate and sustain these fighters without state support -- support they are getting from Russia," said AFRICOM commander Gen. Stephen Townsend.
In July, AFRICOM released satellite imagery showing that Moscow was continuing to supply the Wagner Group in Libya with fighter aircraft, armoured vehicles, air defence systems, and supplies.
Meanwhile, the Wagner Group has been co-ordinating a massive recruitment effort of Syrian youths to fight as mercenaries in Libya with the help of a political party supported by the al-Assad regime.
Overextended?
Al-Assad has reason to wonder if Putin is really committed to Syria, or just using the country as a convenient way station to advance the Kremlin's proxy wars elsewhere.
Since throwing its weight behind Syria in 2015, Moscow has taken on several costly new commitments.
The Wagner Group entered Libya in 2018 and are now in their third year of propping up Haftar.
Moscow has led a diplomatic and financial offensive in the Central African Republic (CAR) since 2018 in return for concessions given to its companies to exploit the country's mineral wealth, especially gold and diamonds.
In late 2019, Moscow dispatched 300 "military instructors" to the CAR following a rebel threat to disrupt legislative and presidential elections. The elections took place last December 27.
The Kremlin also has sent arms to the CAR and is an open supporter of President Faustin Archange Touadera. Ahead of the election, in mid-October, armoured vehicles draped in the Russian and CAR flags patrolled the streets of the capital, Bangui.
In 2020, after Azerbaijan routed Armenia and the breakaway Azerbaijani region of Nagorno-Karabakh in a six-week war, the Kremlin sent a 2,000-man "peacekeeping" force. Under the treaty ending the war, the Russians will be in Azerbaijan for at least five years.
Meanwhile, in adventures predating the intervention in Syria, Russian troops and Russian-backed separatists are fighting Ukrainian forces in eastern Ukraine, Russian troops occupy a fifth of Georgia, and Russian troops prop up the rump state of Transnistria in Moldova.
Russian denials
Russia denies having any military personnel in Libya despite heavy evidence to the contrary.
"We don't have any military personnel or servicemen on Libyan soil. Therefore there is no Russian military intervention in Libya," a spokesperson for the country's mission told AFP in January.
"If there are any Russian nationals as mercenaries, which we cannot totally exclude, those who hired them should be addressed to withdraw them."