Shortly after announcing the death of al-Qaeda in the Arabian Peninsula (AQAP) leader Qassim al-Rimi, the US government offered rewards of up to $11 million for information leading to the capture of his two most likely successors.
The US Department of State's Rewards for Justice programme has announced rewards of up to $11 million for information leading to the arrest of AQAP leaders Saad bin Atef al-Awlaki and Khalid Saeed al-Batarfi.
"The beautiful people of Yemen will be safer without the criminal terrorist Qassim al-Rimi, but we are still searching for his friends and comrades," Rewards for Justice said in a February 1st social media post.
Al-Rimi, 41, assumed command of AQAP in June 2015, following the death of Nasser al-Wuhayshi in an airstrike in Yemen's Hadramaut province. The AQAP emir was killed in a US drone strike on Wadi Ubaidah district in Marib province.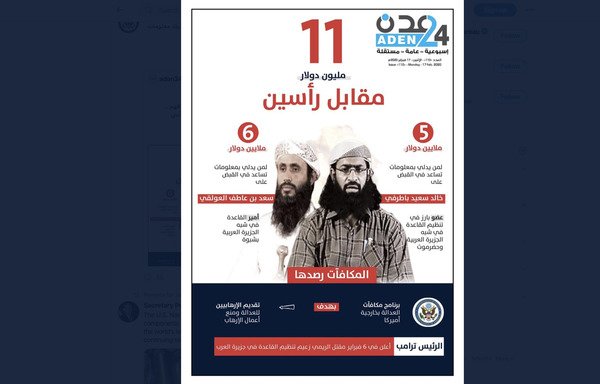 US President Donald Trump confirmed al-Rimi's death on February 6th.
The following day, the Rewards for Justice programme called for information leading to the arrest of al-Batarfi, offering a reward of up to $5 million.
Al-Batarfi is a senior member of AQAP in Hadramaut province and a former member of the group's shura council.
One day later, Rewards for Justice announced another reward, of up to $6 million, for information leading to the identification or location of al-Awlaki, the AQAP emir of Shabwa province.
Al-Batarfi and al-Awlaki are first line leaders of AQAP and are candidates to succeed al-Rimi, political analyst Faisal Ahmed told Al-Mashareq.
"Al-Batarfi led the group's capture of the city of al-Mukalla in 2015... while al-Awlaki has been the group's leader in Shabwa province for several years," he said.
Calling on tribes to provide information
The Rewards for Justice programme directs its messages "to the tribes and their sheikhs in Yemen", Ahmed explained, noting that the tribes play a key role in either protecting and sheltering extremists or rooting them out.
The wanted individuals "either pay the sheikhs to buy their loyalty and silence and gain their favour, or leave, which puts [them] at risk, both from the tribe that hosted them and the new tribe that takes them in", he said.
This makes them suspicious of all those around them, which leads them to surround themselves with bodyguards and aides and in turn increases their visibility and makes them "easy prey", Ahmed added.
"Those who wish to stay within the tribe that provides them with protection must pay more money," he said, which has become more difficult amid an international crackdown on money laundering and the financing of terrorism.
People who provide information to the Rewards for Justice programme remain anonymous, Ahmed said, "so as to not put that person at risk of retaliation by the terrorist groups".
Rewards useful, but more is needed
"The reward programme is yielding quick results," Abaad Studies and Research Centre director Abdul Salam Mohammed told Al-Mashareq.
But he warned that the rewards alone "do not solve the problem of terrorism".
"While the programme motivates the tribes to turn in senior al-Qaeda leaders, it also motivates them to continue supporting these groups to ensure the continued flow of money," Mohammed said.
So in a sense, he said, "the tribes deal in terrorism cases".
"Combating terrorism should be undertaken in partnership with countries and with their security institutions, not only with unknown people through the use of money," he said.
Political analyst Adel al-Shujaa, however, said the offer of monetary rewards is always useful.
"Financial rewards always play a positive role," he said, noting that "they encourage the largest number of people possible to earn the reward".
They also "tighten the noose" on the wanted individuals, he said, "agitating them and causing them to move and leave their hiding place, which leaves them vulnerable to being spotted".