Egypt's political and religious leaders have strongly denounced the perpetrators of the deadly Sunday night (August 4th) attack outside the National Cancer Institute in Cairo and all extremist groups that threaten society.
Twenty-two people were killed and 70 were injured in the crash in central Cairo's al-Manyal, which President Abdel Fattah al-Sisi described as a "terrorist incident".
The blast was caused by a speeding car packed with explosives that smashed into three other vehicles as it was driving against the traffic, officials said.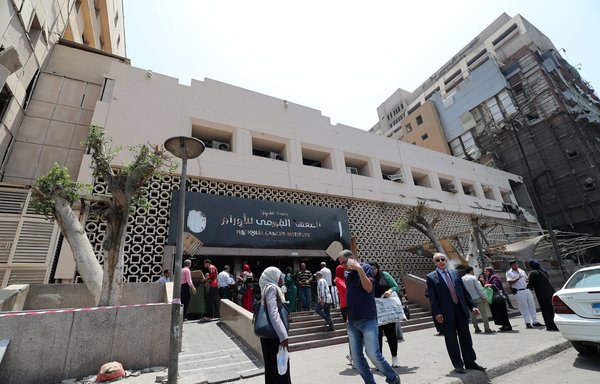 Both the interior ministry and police have accused the Hasm group of being behind the attack, which happened a few days before Eid al-Adha.
The vehicle implicated in the explosion, which had been reported stolen months before in Menoufiya, was "carrying explosives prepared for use in a terrorist attack", the interior ministry said.
Religious leaders denounce attack
"These terrorist groups do not observe the sanctity of blood or the sacred month," Egypt's Grand Mufti Shawki Allam said in a statement. "Rather, their aim is to spill innocent people's blood, terrorise people and provoke civil unrest."
Al-Azhar also condemned the incident in an official statement.
"Committing such a crime in a place crowded with innocent people, including women, children and patients, just a few days before Eid al-Adha and in this sacred month, reveals the true face of terrorist groups and exposes the falsehood of their affiliation to Islam," the statement said.
"All the acts that those barbaric, brutal groups commit violate the teachings of Islam and go against its purposes, foremost of which is the preservation of souls," the statement continued.
Such actions are an "express violation" of the Qur'an and the teachings of all religions, it added.
In a Tuesday statement, Dar al-Ifta's Fatwa Observatory said terrorist groups embrace radical ideology and issue false fatwas "that lay the groundwork for violence for the purpose of achieving their malicious agenda".
Extremists groups, including the "Islamic State of Iraq and Syria" (ISIS) and al-Qaeda, "seek to usurp power in the name of religion", it warned.
Meanwhile, Egypt's Coptic Orthodox Pope Tawadros II offered condolences to the families of victims and said the Church "is praying for all the patients".
The Coptic Orthodox Church will make a contribution towards the renovation of the institute's building, which was severely damaged in the bombing, he said.
It will offer this contribution "alongside all institutions and individuals who offered contributions for that purpose", he said.
Lawmakers highlight Egyptian unity
"These treacherous acts are categorically rejected by Egyptians and will only increase their solidarity against terrorism and extremism," Egyptian MP Motaz Mohammed Mahmoud said.
"We denounce the insistence of those groups of mercenaries on ending the lives of our people and targeting innocent people," he said.
"Egypt will always be a strong state, and these cowardly acts will not affect its determination or the resolve of its people," he added.
"Terrorism has no religion," Mahmoud stressed. "Those who commit such acts are mercenaries whose primary goals are to destroy states, terrorise civilians and spread extremism and violence."
Egyptian MP Tariq Metwally also condemned the terrorist incident.
"It is against all religious and humanitarian values," he said. "It is aimed at undermining Egypt's stability and security and derailing its development."
He noted however that extremist groups have not succeeded in weakening the Egyptian people's unity "against the forces of extremism and terrorism".