Yemeni fishermen have been protesting the presence of an Iranian vessel in the Red Sea off the coast of Yemen, saying it has caused the death of more than 100 of their comrades in naval mine explosions.
Saviz, the Iranian vessel registered as a cargo ship, has been anchored in the Red Sea for a couple of years and is believed to be providing significant military and logistical aid to the Houthis (Ansarallah) in Yemen.
According to Iranian news outlets, many of the weapons handed over by the Iranian regime to the Houthis were carried out by speedboats from the same vessel, Al-Arabiya reported last August.
In the past period, the work of 30,000 Yemeni fishermen has been disrupted and hundreds of families deprived of their only source of income because of landmines and booby-traps provided by Saviz, according to a statement issued by Yemeni fishermen on May 3rd.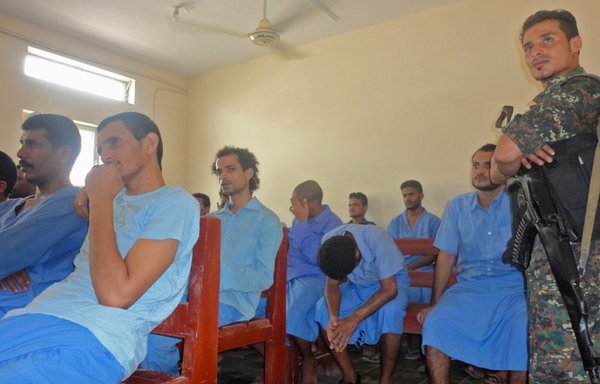 Fishermen called on the government, the Arab coalition and the international community to "intervene immediately" to rescue them from Saviz, which has taken over the coast of Yemen, they said.
"The presence of the Iranian ship Saviz threatens the lives of fishermen along the western coast of Yemen, by the proliferation of landmines and booby-trapped boats that have killed dozens," the statement said.
"We will not remain indifferent to those who deprive us of the right to live in dignity. We will continue to escalate our protests... and appeal to all sides in Yemen, the region and the world to force the ship Saviz to leave," it said.
"Fishermen in al-Mokha are facing very bad circumstances because they are being persecuted by the Iranian ship Saviz, which is preventing them from fishing," said 30-year-old Sadiq Abdo from the port city of al-Mokha.
Fishermen have been hit by naval mines planted by the Houthis at sea, he told Al-Mashareq, stressing that "the militia could not have done that without the support of the Iranian ship".
Illegal shipments of arms
Yemeni forces regularly announce the interception and seizure of illegal arms shipments headed to the Houthis.
Most of these shipments, which appear to have originated in Iran, are believed to have been smuggled into Yemen via land or sea by two special units of the Islamic Revolutionary Guard Corps (IRGC), experts told Al-Mashareq.
The Yemeni army on November 2nd seized a weapons shipment in Lahj province, at al-Sohabi checkpoint in al-Qubaita district, that was headed to the Houthis aboard a transport truck coming from Aden.
During a thorough inspection, personnel manning the checkpoint found the illegal shipment camouflaged with plastic baskets of fish that had been placed next to crates of weapons and ammunition.
A few days earlier, on October 30th, Yemeni military police seized an illegal shipment of weapons and ammunition at a checkpoint on the road between Marib and Sanaa that had been destined for the Houthis.
This included heat-seeking missiles, rocket-propelled grenades (RPGs), and Kalashnikov rifles, said Marib military police commander Brig. Gen. Naji Muneef.
On December 11th, more suspected Iranian-made weapons were found in Yemen, according to a UN report.
The report from the office of UN Secretary General Antonio Guterres said his staff examined two container launch units for anti-tank guided missiles recovered in Yemen by the Arab coalition.
"The secretariat found that they had characteristics of Iranian manufacture," the report said.
The secretariat "also examined a partly disassembled surface-to-air missile" seized by the Arab coalition, it added, "and observed that its features appeared to be consistent with those of an Iranian missile".
Iranian experts oversee smuggling
"The smuggling of arms to the Houthis by land is done through the areas in eastern Yemen on the border with Oman under the supervision of Iranian experts," journalist Mounir Talal told Al-Mashareq.
Oman has been a stalwart supporter of efforts to bring Yemen's warring parties to the negotiating table, but experts say it is possible that smugglers have been operating in remote areas without the sultanate's knowledge or consent.
Iranian officers and experts have been positioned in strategic parts of Yemen to ensure weapons shipments are delivered to the Houthis, and to supervise their assembly and provide training on their use, Talal said.
Once the weapons arrive in Sanaa, Quds Force (QF) commander Maj. Gen. Qassem Soleimani and other Iranian experts "oversee their transfer and redistribution to the active battle fronts, such as the provinces of al-Hodeidah, Hajjah and Saada", he said.
IRGC-QF smuggling units
Iran relies on several units to smuggle weapons into Yemen, including Unit 400, Unit 190 and Unit 140 of the IRGC's elite Quds Force (IRGC-QF).
Units 190 and 140 are "similar in terms of the work they do, as they specialise in trafficking high-risk, unconventional weapons outside the borders of Iran", said researcher Sheyar Turko, who specialises in the IRGC and its funding methods.
While Unit 190 traffics weapons to any part of the world where the IRGC needs this military technology, he said, "Unit 140's activity is confined to the Gulf and Middle East region".
"It was established years ago by an elite group of IRGC officers and officers from affiliated [militias], such as [late Hizbullah leader] Imad Mughniyah, who was the unit's operations officer for some time in its early days", Turko told Al-Mashareq.
Unit 140 carries out "dangerous and unconventional operations that involve the secret transfer of important persons to and from countries the IRGC is trying to get a foothold in", he said.
It also is responsible for transferring "dangerous and sensitive technology, especially drones, ballistic missile warheads and surveillance and sensing devices", he added.
Unit 140 has been active in the Gulf region in particular, and most recently in Yemen.
It carries out its smuggling operations by sea, including the waters off of Oman's coastline, he said. "This unit mainly employs sea transport in its movements, by using either speedboats or fishing boats with modified engines that allow it to manoeuvre at sea and avoid surveillance and monitoring."