As part of its efforts to expand its influence in neighbouring Iraq, Iran's Islamic Revolutionary Guard Corps (IRGC) is seeking to destroy Iraqi national identity and sow sectarian strife in the country, analysts tell Diyaruna.
Since the outset of the Iranian revolution in 1979, the regime has been trying to weaken Iraq and expand its influence there.
This would serve the IRGC's agenda to open a land route that connects Iran to Lebanon and the Mediterranean Sea, via Iraq, to transport fighters and weapons and facilitate trade, they said.
"Iranian rulers have turned Iraq into something of a backyard for their country or a satellite state whose fate is linked to that of Iran," said former MP Omar Abdul Sattar, who is an expert in international relations.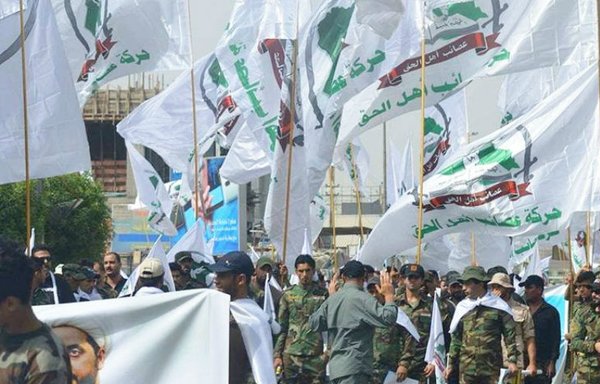 By turning Iraq into a conflict zone and consolidating its interests there, the IRGC aims to mitigate the effects of international sanctions and Iran's own domestic woes, he told Diyaruna.
The IRGC's intentions are evident through its support of armed Iraqi militias that threaten the sovereignty of the country and consider themselves above the law, he said.
These militias, such as the Badr Organisation, Kataib Hizbullah, Harakat al-Nujaba and Asaib Ahl al-Haq, "only answer to the regime in Iran", said Abdul Sattar.
"We all remember what happened in 2015 when Iraqi Prime Minister Haider al-Abadi issued an order to remove Abu Mahdi al-Muhandis from his position as deputy head of the Popular Mobilisation Forces (PMF), only for the latter to say he does not answer to the government," Abdul Sattar said.
This represents a "flagrant defiance of the government's decision", he added.
'Destroying Iraqi national identity'
Abdul Sattar said the IRGC "not only seeks to undermine [Iraq's] standing and its state and legal institutions, but it also is attacking the national identity of the Iraqi people".
This has been the Iranian regime's enduring objective since it was formed, he said, as its leaders have always called for the promotion of the doctrine of Wilayat al-Faqih (Guardianship of the Jurist) and for "dissolving the Arab identity, religious affiliations and cultural specificity".
"And today, the IRGC and its militias are trying to destroy the Iraqi identity and replace it with a sectarian one in an attempt to incite strife and division within Iraqi society and render it incapable of overcoming crises and prospering," he added.
The IRGC has "planted sectarianism in Iraq" by supporting certain militias and armed factions, journalist Omar al-Janabi told Diyaruna.
Iran does not want for Iraqis to be united under a national identity, he said, as it seeks for each sect to form its own identity and armed faction so as to facilitate internal strife, he said.
"Iraqis, however, have learned their lesson and banded together and they now feel a huge resentment towards Iranian policies and the role of [Iran-backed] militias," he said.
This resentment has become particularly evident in southern Iraq, said al-Janabi, where Iran-backed militias have "taken over public sector appointments, public property and national resources, promoting chaos, drug use and destruction".
"The IRGC, which has spread its tentacles throughout Iraq, is setting the stage for absolute [Iraqi] subordination and Iranian hegemony over Iraq," he said, which would involve destroying Iraq's sovereignty and subjugating its interests for the sake of Iran.
Iranian President Hassan Rouhani's first official visit to Baghdad on March 11th and IRGC-Quds Force commander Qassem Soleimani's regular public appearances in Iraqi cities provide further proof of Iran's interference in Iraq, al-Janabi said.
Militias implement Iran's agenda
The Iranian regime perceives Iraq "as a regional buffer zone and score settling territory", said former Ninawa governor Athil al-Nujaifi.
"When the [Iranian] regime's existence is threatened, it will not hesitate to deploy its resources to destabilise the region," he told Diyaruna, stressing that "the militias are the most effective weapon that Iran has in this regard".
The IRGC created armed factions in Iraq, Lebanon and elsewhere to implement its own agenda and to create ideological loyalists to Wilayat al-Faqih, al-Nujaifi said.
Through these armed factions, Iran seeks to form "parallel or alternative forces to regular states forces, but with higher authority and more influence", he said.