There has been growing concern in Iraq that Iran-aligned militias and political parties are undermining the country's sovereignty, Iraqi officials said.
The detrimental impact of Iran-backed militias is evident in areas liberated from the "Islamic State of Iraq and Syria" (ISIS), where armed groups flout Iraqi law and engage in activities that undermine national unity, they said.
The influence of these militias has become more troublesome since some Iran-aligned groups and parties entered the political arena during the May 2018 parliamentary elections, journalist Omar al-Janabi told Diyaruna.
These include the Badr Organisation, whose pro-Iran leader Hadi al-Amiri heads the Binaa Coalition parliamentary bloc. The bloc comprises several alliances, including al-Amiri's Fatah Alliance; former prime minister Nuri al-Maliki's State of Law coalition; and al-Nasr Alliance, led by Faleh al-Fayyad.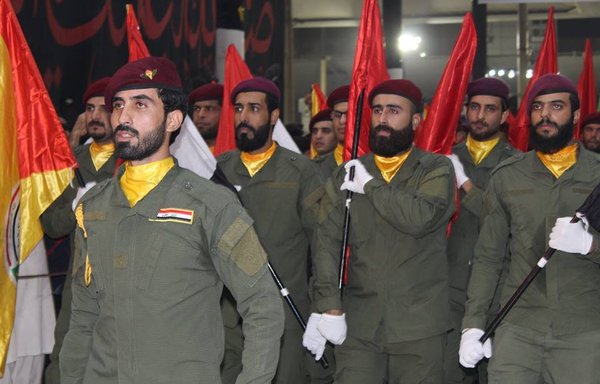 "These groups have gained political leverage and are using it to impose their will on the rule of law and turn all state institutions into puppets to be manipulated by Iran," al-Janabi said.
Meanwhile, he added, Iran-backed militias "are actively undermining security and provoking sectarian conflicts and divisions to serve the interests of the Iranians".
Their actions are most evident in areas liberated from ISIS, where they "continue to prevent thousands of IDPs from returning to their homes", he said.
These areas include Salaheddine's Jarf al-Sakhr district, Sulaiman Bek and Aziz Balad, as well as Sinjar in Ninawa province, among others, he said.
Iran-backed militias are responsible for the "forcible disappearance of many civilians in the provinces of Ninawa, Salaheddine and Anbar, who are listed as missing", al-Janabi said.
"Residents also are angry over the militias' theft of oil from the wells in their areas, and their control over commercial crossings and economic activities," he said.
These militias also "are recruiting youth, especially the unemployed", into their ranks to fight in the battlefields of Syria, he said.
Political, security disruption
Iran-backed militias aspire to extend their presence and their influence over the political decision-making centres in Iraq, said Iraqi Centre for Strategic Studies researcher Yahya al-Kubaisi.
"Although they have not yet reached the point of total control, the influence of these groups has been growing since the political gains they made, with Iranian support," he told Diyaruna.
Iraqis have become increasingly concerned, "because they realise that these militia forces are expressing Iranian ambitions that are not in line with what is good for their country", al-Kubaisi said.
The militias are a major cause of political and security disruption, he added.
Their presence in the liberated cities undermines social stability and security, due to the sectarian nature of their activities and the problems they engender by exploiting economic resources, he said.
"It is necessary to push for the dismantling of all armed militias and restricting the possession of weapons solely to state security outfits," he said.
PMF law 'not being enforced'
The Popular Mobilisation Forces (PMF) Law, approved by Iraqi parliament in 2016, "is not being legally enforced", al-Kubaisi said.
The law stipulates the PMF "will be an independent military formation and a part of the Iraqi armed forces, and attached to the General Commander of the Armed Forces".
"In reality, some of the PMF-affiliated militias are powers unto themselves, with their own decisions and agendas that diverge from the national interest," he said, noting that they are "fully loyal to Iran".
"Maintaining the status quo without addressing the situation means more complex and worse crises and problems," he cautioned.
There are currently 67 groups officially under the auspices of the PMF, he said, many of which "receive guidance from Iran's Islamic Revolutionary Guard Corps (IRGC) and follow the dictates of Supreme Leader Ali Khamenei".
These include Asaib Ahl al-Haq, Sayyid al-Shuhada Battalions, Harakat al-Nujaba, Kataib al-Imam Ali, Kataib Jund al-Imam, Saraya al-Khorasani, Kataib Hizbullah; Kataib al-Tayyar al-Risali and Liwa Assad-Allah al-Ghalib.
The PMF includes about 100,000 fighters, the bulk of whom are deployed in liberated provinces, and Ninawa in particular, al-Kubaisi said.
"There are other small groups that are not part of the PMF, but also have an armed presence," he added.
Interference in local governance
Ninawa's local government wants to put an end to the multiplicity of decision-makers stemming from the presence of the PMF and other forces in the province, Ninawa provincial council member Hossam Eddin al-Abbar told Diyaruna.
"Some of these factions are involved in matters that have no connection to security, and are only looking to make money by trading oil and scrap metal extracted from destroyed buildings in Mosul," he said.
"They also interfere in all local affairs, such as auctions and land sales, and exert pressure to have construction projects awarded to certain companies," he said.
"We are trying to resolve all these issues through the Ninawa fact-finding committee," he said, which was formed by the Iraqi Parliament at the end of last year to investigate security, economic, humanitarian and services-related events in the province.