Egyptian police killed 16 extremists during a gunfight that erupted as they raided two militant hideouts in the North Sinai provincial capital of al-Arish, the Interior Ministry said Tuesday (February 19th).
In a separate incident hours earlier, a suicide bomber blew himself up in central Cairo, killing three policemen and wounding several civilians, the ministry said.
In a Tuesday morning statement, the ministry said it had received "information about two hideouts where a group of terrorists were hiding and planning a series of operations against vital facilities and senior figures in al-Arish".
"When our forces raided the first hideout at a deserted house in al-Obeidat neighbourhood, in the sector of al-Arish 3rd Police Station, terrorists opened intensive fire on them," the ministry statement said.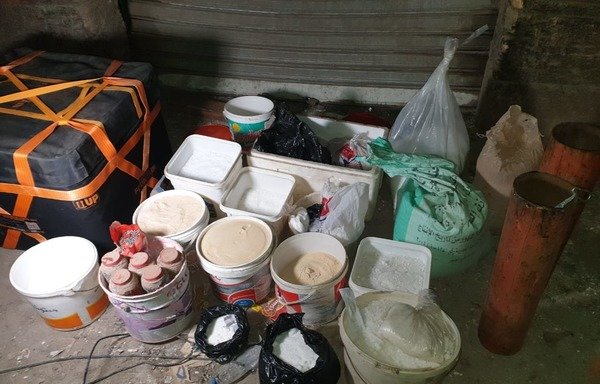 Egyptian forces returned fire, killing 10 militants in the subsequent shootout.
"When the second hideout was raided, an under-construction house in Abu Aita in the sector of al-Arish 3rd Police Station, a shootout broke out between terrorists and our forces, and as a result, six of them were killed," it said.
Firearms, ammunition, improvised explosive devices (IEDs) and explosive vests were found at the location, the ministry said.
On Saturday, the army said an attack by suspected extremists on a North Sinai checkpoint had left 15 soldiers dead or wounded, and that seven of the assailants had been killed, AFP reported.
Central Cairo bombing
The Sinai raids came in the immediate aftermath of a Monday evening suicide bombing in central Cairo, in which three policemen were killed.
The perpetrator of that attack blew himself up in an alley in al-Darb al-Ahmar neighbourhood near Al-Azhar mosque, as the security forces tried to arrest him.
The ministry said he was being chased as part of a manhunt for those responsible for a foiled bomb attack near a mosque in Giza on Friday.
"The National Security Agency identified the terrorist as al-Hassan Abdullah, 37," the ministry said. "He had failed to blow up an IED against the security forces in Giza after Friday prayers."
"The National Security Agency located him in al-Dardiri alley in al-Darb al-Ahmar and besieged him. And when our personnel tried to arrest him, he blew himself up, killing three policemen and wounding six others, including civilians," it said.
Video posted on social media on Tuesday morning showed police catching up with a male cyclist before being enveloped by an explosion, AFP reported.
The blast also damaged several shops in the alleyway, which lies in an area frequented by tourists.
"My shop's front and windows were destroyed," barbershop owner Kareem Sayed Awad told AFP.
"The problem is not only that but also that people died. This is a tourist area and such incidents affect it," he said.
Following the incident, Attorney-General Nabil Sadeq ordered the formation of a public prosecution team to open an urgent investigation into the incident.
Al-Azhar condemns attack
Egypt's Al-Azhar swiftly condemned the suicide bombing in a statement.
Al-Azhar lauded the vigilance of security forces and their success in identifying and chasing the perpetrator, and called on the Egyptian people to stand behind state institutions and security agencies in their efforts to uproot terrorism.
Jordan's King Abdullah on Tuesday condemned the "cowardly act", affirming his country's support for Egypt in the fight against terrorism, a Royal Court statement said.
Government spokeswoman Jumana Ghneimat also condemned the attack, stressing that Jordan stands by Egypt in its efforts to combat "terrorist gangs" that attempt to destabilise the country and compromise its security.
She said such terror acts require the consolidation of efforts among the international community.
Egyptian MP Yahya Kedwani, who serves on the parliamentary defence and national security committee, said the incident is a clear indicator of the success of security agencies in swiftly identifying lone wolves and small terror cells.
"They identified the terrorist, al-Hassan Abdullah, just a few days after his failed attempt to plant an IED in Giza," he said.
"There is major co-operation between security forces and civilians in reporting the terrorists, as well as their sources of financing," he added. "This is an important part in the success of pre-emptive operations."
"Al-Darb al-Ahmar incident is clear evidence that someone decided to destroy himself and kill innocent people for goals that run against religion and morals, as they are aimed at destroying the human soul to spread panic among safe people."