A newly opened library in Arsal's Wadi al-Hosn -- the town's first -- gives readers access to about 3,000 books, published in Arabic, French and English, on topics that range from history to literature, science and culture.
Since its inauguration in April, the Arsal Cultural Library has been in regular use, with local residents telling Al-Mashareq it shows the positive side of Arsal and is helping the town cast off its negative image.
The northern border town has been in the news more often in recent years as a battleground between the Lebanese army and extremist groups such as the "Islamic State of Iraq and Syria" (ISIS) and al-Nusra Front.
Waleed al-Hujairi, who teaches history at Arsal Public High School, told Al-Mashareq he got the idea of establishing the library while taking part in a training course.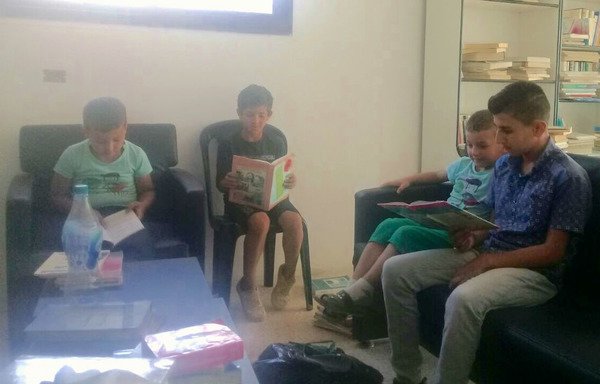 "Towards the end of the course, we were asked to work on a civil society service project, and I could not think of anything better than a library for its educational mission and service to our young men and women in Arsal," he said.
A cultural incubator
"I work in the field of education," al-Hujairi said, noting that teaching methods have moved away from the traditional approach of rote learning "to having the students conduct their own research to discover information".
For this type of research, a library is necessary.
"I put the collection of books I have at the disposal of students and Arsal residents so they may benefit from them, and I found a suitable site for the library," he said.
Al-Hujairi said he teaches "20 history courses per week to 20 different classes, and this allows me to interact with the largest number of youth between the ages of 15 and 17, which is the generation upon which nations are built".
He said he hopes the library will encourage young people to read and will give them a reason to stay away from drug use and extremism.
By filling their free time with educational courses, seminars and activities, young people can build a meaningful life that will benefit civil society, he added.
The library serves as an "indicator of the cultural state of the town, as the more attention it receives, the better the image it projects of Arsal", he added.
A beacon to students
The library was a go-to place for students during the official exams in June, particularly for high school students, who used it to prepare for their exams.
"The opening of the library coincided with my preparation for the official exams," high school student Reem al-Hujairi told Al-Mashareq.
"I reviewed some books in it, particularly those on subjects covered by the exams, and I benefited greatly from that," she said. "I am currently visiting it to read books that help me enter the Faculty of Education at the Lebanese University."
The library is "a very important project in Arsal", she said, noting that in addition to being useful, it helps the town present a "civilised and cultural image".
The library is "very important for the dissemination of knowledge and culture in order to raise the level of education", said Huda al-Hujairi, who studies French literature. "The library projects a positive and beautiful image of the town."
'A beautiful impact'
In addition to serving as a resource for students, the books on the library's shelves attract town residents of all ages, as well as Syrian refugees.
"The library's opening has had a huge and beautiful impact on my life and state of mind, especially as I have loved reading since childhood," Syrian refugee Wesam Basha, a mother of three, told Al-Mashareq.
"I borrow literary books and others on the art of cooking," she said, noting that she has read all the works of the Arab poet Abu al-Tayyib al-Mutanabbi.
"The library's existence has helped me overcome my despair and frustration over the circumstances that we as refugees are experiencing," Basha said.
"It is great to have a cultural space in Arsal," she said.