Yemeni forces backed by the Arab coalition on Monday (July 16th) kicked off a new military operation to liberate Saada province's western Shadaa district from the Iran-backed Houthis (Ansarallah).
"In the first hours of the operation, we liberated al-Hasama village and Kaab al-Jabir Mount as the Houthis fled en masse," said Brig. Gen. Mohammed bin Abdullah al-Ajabi, commander of the 3rd Commando Brigade.
Yemeni forces are still advancing in the district, where they have inflicted heavy losses on the Houthis, he said in a report carried by local media.
Shadaa is now the sixth district in Saada province where pro-government forces are battling the Houthis, after al-Dhahir, Baqim, al-Boqee, Kitaf and Razih.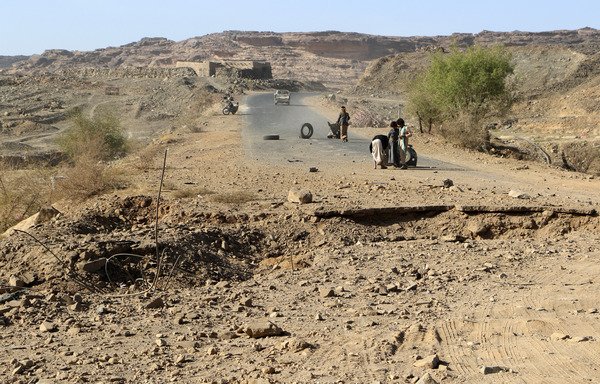 Saada province, in the northwest of Yemen, has a total of 15 districts.
"The strategy followed by the national army in liberating Saada province's districts is successful against the Iran-backed Houthis," General People's Congress (GPC) leader Adel al-Shogaa told Al-Mashareq.
"Opening multiple fronts in more than one district in Saada province is a successful strategy if military operations across these fronts take place at the same time," he said. "The Houthis will not be able to fight on all of these fronts, and will be defeated soon."
Path to an agreement
Meanwhile, Foreign Minister Khaled al-Yamani on Monday confirmed that the Yemeni government supports the UN special envoy to Yemen in his efforts to reach an agreement whereby the Houthis would withdraw from al-Hodeidah.
This would spare civilians, infrastructure, state and vital institutions, he said during a meeting with Alistair Burt, Britain's Minister of State for the Middle East at the Foreign and Commonwealth Office and Minister of State at the Department for International Development.
Al-Yamani stressed the need for the Houthis to fully withdraw from three key ports -- al-Hodeidah, Salif and Ras Issa.
These ports must be manned by Interior Ministry forces, with technical oversight and support from the UN, he said, according to reports carried by local media.
President Abd Rabbu Mansour Hadi has instructed the Prime Minister Ahmed Obeid bin Dagher to head a special committee to study an initiative proposed by the UN special envoy to Yemen on the situation in al-Hodeidah, al-Yamani said.