Yemeni forces backed by the Arab coalition launched a major offensive on Wednesday (June 13th) to retake the Red Sea port city of al-Hodeidah, which is held by the Iran-backed Houthis (Ansarallah).
Field commanders said troops pushed towards al-Hodeidah airport after Yemeni pro-government forces received a "green light" from the Arab coalition.
The port serves as the entry point for 70% of Yemen's imports, but the Arab coalition accuses the Houthis of using it to secure Iranian arms, notably the ballistic missiles they have increasingly fired into Saudi territory.
Coalition sources said the alliance carried out 18 airstrikes on Houthi positions on the outskirts of al-Hodeidah on Wednesday.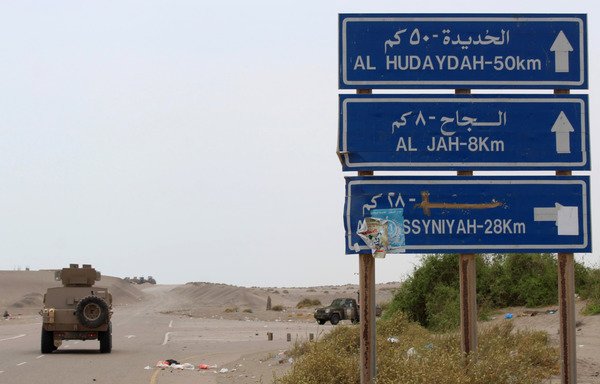 According to medical sources in the province, 22 Houthi fighters were killed by coalition raids, while three pro-government fighters were killed in a Houthi ambush south of the city.
Yemen's government said Tuesday that negotiations had failed to force the Houthis to leave al-Hodeidah, which they seized in 2014, and that a grace period for UN-led peace efforts was over.
"All peaceful and political means of removing the Houthi militia from al-Hodeidah port have been exhausted," the government said in a statement.
Meanwhile, the UN envoy for Yemen said Wednesday he is continuing to hold negotiations on keeping the port open to aid deliveries.
"We are in constant contact with all the parties involved to negotiate arrangements for al-Hodeidah that would address political, humanitarian, security concerns of all concerned parties," said Martin Griffiths in a statement.
He called on all sides to "exercise restraint and to give peace a chance".
"The UN is determined to move ahead with the political process despite the recent developments," he said.
'A necessary move'
The UAE, a key member of the Arab coalition, says retaking al-Hodeidah is necessary to force the Houthis to make concessions.
"The current and illegal Houthi occupation of al-Hodeidah is prolonging the Yemeni war," Emirati State Minister for Foreign Affairs Anwar Gargash said in a Tuesday social media post.
"The liberation of the city and port will create a new reality and bring the Houthis to the negotiations," he added.
Yemeni forces massing around al-Hodeidah are a mix of local fighters, those loyal to President Abd Rabbu Mansour Hadi, and supporters of slain former president Ali Abdullah Saleh.
They are backed on the ground by the UAE, while Saudi Arabia has been leading a campaign of airstrikes.
On Wednesday, the Houthis said they had targeted an Arab coalition warship off the coast of al-Hodeidah with two missiles.