Suicide bombers killed a child and wounded seven Lebanese army soldiers on Friday (June 30th) as the soldiers raided two refugee camps near the northern border town of Arsal.
The attacks occurred at al-Nour and al-Qaria camps as the army conducted raids aimed at "arresting terrorists and seizing weapons", the Lebanese army command said.
Lebanon's An-Nahar newspaper reported that the "Islamic State of Iraq and Syria" (ISIS) was responsible for the attacks, and noted that more than 100 ISIS elements had been detained in the raids.
"The army sustained the casualties when a suicide bomber detonated an explosives vest in front of one of the raiding patrols at al-Nour camp, killing himself and lightly wounding three soldiers," the army said in a statement.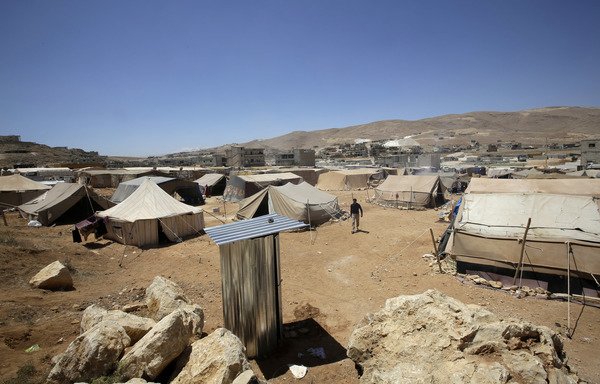 "Later, three other suicide bombers blew themselves up without causing any casualties among our soldiers," the army statement said.
The army said a young girl had been killed, whose parents are refugees, AFP reported. A medical source in Baalbek said she was two and a half years old.
"The terrorists also detonated an improvised explosive device (IED), while the army forces seized four IEDs set for detonation, which a military expert detonated on site," the army statement said.
Meanwhile, as another army force raided nearby al-Qaria camp, "a terrorist blew himself up using an explosives vest, without causing casualties among our soldiers", the statement added.
"Another terrorist threw a hand grenade in the direction of a patrol, lightly wounding four soldiers," according to the statement.
Raids net would-be attackers
Some 350 Syrians -- including Ahmed Diab, who was wanted in connection with the killing of Lt. Col. Nouredine al-Jamel in the Arsal battles of 2014 -- have been arrested in the raids, the army command said.
A military source said that extremists inside the camps were planning sabotage operations in different parts of Lebanon, from Zahle to Beirut.
"Some people in Arsal, especially in the neighbourhood near the refugee camps, heard the blasts that took place during the army's raids," Arsal mayor Bassel al-Hujairi told Al-Mashareq.
"Others did not hear anything, as Arsal is a large town with several valleys," he said. "We are in another valley, and so we did not hear the blasts, but received the news later."
"The refugee camps themselves pose no threat to the residents of Arsal or the area," al-Hujairi noted. "However, some non-civilian elements who are intending to cause harm and evil may be hiding at these camps."
"It is the responsibility of the army and security forces to identify them, based on their information and contacts, to fend off threats to Syrians and Lebanese alike," he said.
The infiltration of suicide bombers into the refugee camps requires "swift action", said Defence Minister Yacoub al-Sarraf.
"We are proving again the correctness of our options when we launched pre-emptive strikes against the terror cells," he added.