2018-11-15
Syrians get help to finish university in Lebanon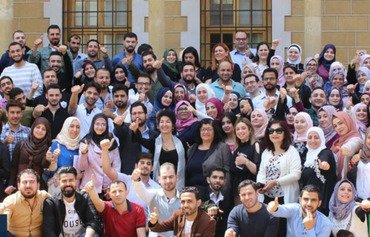 Hundreds of Syrian refugees in Lebanon have received scholarships and financial assistance from universities and international donors that has helped them complete their university education, in many cases disrupted by the war.
Among the donors is the Kuwait Foundation for the Advancement of Sciences (KFAS), which for the third consecutive year has awarded hundreds of scholarships to Syrian students to pursue studies at the Arab Open University.
The university has branches in Beirut, Tripoli and Zahle.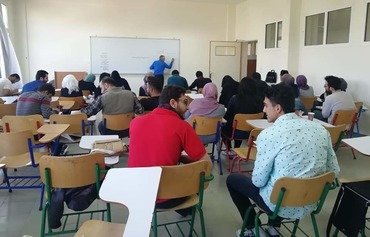 KFAS requires that applicants be Syrian nationals, have a Syrian secondary school diploma or its equivalent, and be registered with the Office of the UN High Commissioner for Refugees (UNHCR).
The KFAS scholarship covers the full cost of earning a bachelor's degree at any branch of the Arab Open University in Lebanon.
Dutch nonprofit SPARK, which provides access to higher education in post-conflict societies, also has been offering scholarships to Syrian students.
After a seven-year hiatus, Manal Salama, of Maadamiyat al-Sham in Syria, returned to university to finish her degree in education, thanks to a full scholarship she received to study at the Arab Open University's Zahle branch.
"For the second year in a row, I was awarded a scholarship to finish my bachelor's degree in education," she told Al-Mashareq.
"After having to stop pursuing my education, first because of marriage and then because I became a refugee in Lebanon, I went back to university last year and I am now a student, thanks to this scholarship," she said.
Scholarships for Syrian students
The University Students Forum helps Syrian refugee students in Lebanon, among them Omar al-Maghrabi, 27, obtain scholarships from donor organisations.
"I met all the conditions required to obtain a scholarship to earn a degree in Business Administration, and prepare myself for the labour market," he told Al-Mashareq, adding that the opportunity is one "that cannot be ignored".
The forum helps Syrian refugee students obtain scholarships from one of several sources, forum president Yasser Ali told Al-Mashareq.
These include SPARK, the Lebanese Association for Scientific Research (LASeR) and various other Lebanese universities, he said, noting that there are 1,400 Syrian students seeking university scholarships in Lebanon.
"We have taken practical steps to help the students," he said. "We held meetings with university presidents and deans, and secured financial assistance for their enrollment in a number of them."
The forum also provides scholarships for continuing education at the American University of Beirut (AUB), from which 215 Syrian students benefitted this year.
These are known as training scholarships, he said, explaining that they run for six months and include English language, teacher training, and training on project management and office management as areas of specialisation.
"The forum helps students obtain full scholarships from SPARK, which is supporting 1,300 students with full scholarships plus $200 per month in allowances per student," Ali said.
"LASeR in Tripoli grants full and partial scholarships to a number of Syrian students to study at Jinan University and the Lebanese University," he added.
Educational facilities, financial help
The Beirut Arab University (BAU) also offers educational facilities and financial assistance to a large number of Syrian refugee students in Lebanon.
The university "has succeeded in attracting 1,470 Syrian students since the outbreak of the Syrian crisis to date", said the university's student affairs director Subhi Abu Shahin.
"The university allows students to register if they do not have a resident permit, and provides them with an affidavit from the university to help them obtain a resident permit from the Lebanese Directorate of General Security," he told Al-Mashareq.
BAU "also grants scholarships to Syrian students, whereby first tier qualifiers are granted 80% of the cost of tuition, second tier qualifiers 50% and third tier qualifiers 25%", Abu Shahin said.
The university also supports students with scholarships to the faculties of human sciences, law, political science, science, business administration and health sciences, he added.
5 COMMENT(S)