Refugees |
2018-11-09
Syrian refugees face hurdles obtaining work permits in Jordan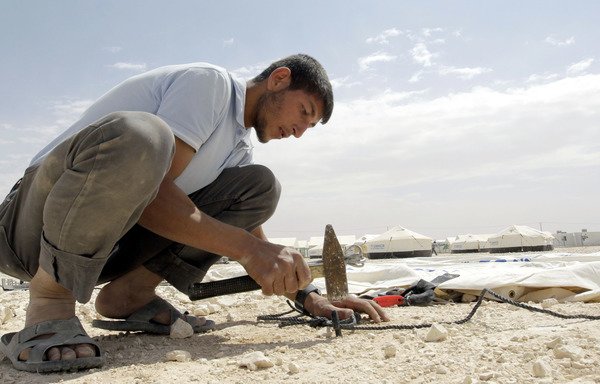 Many Syrian refugees in Jordan do not have work permits because they either do not know how to apply for one or they falsely believe that acquiring a permit will hurt their prospects of receiving aid, a recent report has found.
This underscores the need for large-scale awareness campaigns to ensure that Syrians get access to work permits, experts told Al-Mashareq.
Work permits provide protection to both the refugees and their employers, they said, and enable them to work legally without hindrance.
The report, issued by the Amman-based Arab Renaissance for Democracy and Development (ARDD) in late October, focused on the employment of Syrian refugees in Jordan and the difficulties they face in obtaining work permits.
It said that despite the facilities provided by the Jordanian government to integrate them into the labour market, many Syrian refugees still did not have a work permit.
Some of the obstacles standing in the way of them getting a work permit include their ignorance of the process of obtaining one, or their reluctance to do it for fear of losing the aid they receive from donor organisations.
Some Syrians "believe that the fees for obtaining work permits reach as high as 1,000 dinars ($1409), or that obtaining them precludes them from accessing the services provided by UNHCR or [hurts their chances for] resettlement", the report said.
Free work permits until the end of 2018
The Ministry of Labour has been issuing work permits to Syrian refugees free of charge since 2016, and will continue to do so until the end of this year, ministry spokesman Mohammad al-Khatib told Al-Mashareq.
The number of work permits issued to Syrians has now surpassed 121,000 permits across several sectors, he said.
Jordan began issuing permits to Syrian refugees following the Syria donors' conference in February 2016, as part of an agreement reached with the EU to facilitate the entry of Jordanian exports to EU countries.
The agreement, known as the Jordan Compact, provides Jordan with $1.8 billion in grants and loans as well as preferential trade agreements for certain products from Jordanian businesses employing at least 15% Syrian refugees.
In exchange, Jordan agreed to expand educational and economic access for Syrian refugees in the country, including issuing 200,000 work permits for Syrian refugees in specific sectors.
"The number of work permits issued to Syrian refugees must reach 200,000 in order for Jordan to benefit further from the agreement with the EU," economist Hossam Ayesh told Al-Mashareq.
Need for national awareness campaign
The refugees' "lack of knowledge about the issuance of work permits is one of the main obstacles hindering the process", he said, adding that many do not know they can obtain permits free of charge.
"Therefore, a national campaign must be launched to inform them and raise their awareness about this issue," Ayesh said.
Fees may be imposed next year for the issuance of permits, he said, so it is important refugees apply for one before the end of the year.
Another obstacle is that many Syrian refugees are afraid obtaining a work permit would preclude them from receiving aid from UN and other charitable organisations, he said.
"This is not true and reassurances must be made in this regard by the relevant authorities," he added.
Tamer al-Kalut, the owner of a textile factory in Marka district in Amman, said he found it difficult to find and hire Syrian workers with work permits.
"Almost every day many Syrians come in asking for jobs and they are willing to work for any salary, but the problem is that they do not have work permits and do not know they can obtain one easily and free of charge," he told Al-Mashareq.
More awareness-raising is required to increase the number of refugees with work permits, al-Kalut said.
For further information on applying for work permits, Syrian refugees can visit the "Syrian Labour" section of the Jordanian Ministry of Labour's website.
1 COMMENT(S)